While Asia-Pacific carriers are reporting a significant year-on-year uptick in passenger traffic in February, meaningful recovery is still far off, says the Association of Asia Pacific Airlines (AAPA).
Plans by governments in the region to reopen borders have so far not given a meaningful boost for the region's carriers, the association, which has 40 member airlines, adds.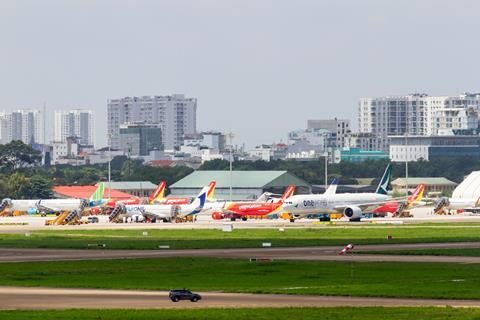 Data from AAPA shows that the region's carriers flew around 2.5 million international passengers. While this was more than double the number of passengers compared to 2021, the industry association says it was only 8.4% of pre-pandemic 2019.
Against February 2021, traffic more than doubled, while capacity grew by nearly 60%. The AAPA notes, however, that it was still weak against 2019.
Compared to pre-pandemic levels, traffic and capacity for February were down 90% and 81% respectively.
Cargo, meanwhile, held strong during the month, as a result of strong demand and maritime supply chain challenges.
International cargo volumes were up 0.2% year on year, and more than 9% higher than pre-pandemic 2019, according to AAPA data.
AAPA director-general Subhas Menon notes that the ongoing Ukraine crisis has created "mounting challenges" for the region's carriers.
"Elevated fuel prices, airspace closures, as well as an overall increase in inflationary pressures will weigh heavily on both passenger and cargo business segments," says Menon.
Still, he notes that the "increasing momentum" towards border reopening was welcome relief for member airlines.
"The relaxation of travel restrictions comes about as governments move towards an endemic approach to Covid-19. As such, AAPA continues to urge more governments to collaborate across borders in paving the way for the safe and sustainable restoration of international air travel and global mobility," says Menon.