Asiana Airlines has returned to passenger service seven widebodies converted for cargo-carrying purposes, as passenger travel demand continues to recover.
The South Korean carrier on 16 January completed work to re-install passenger seats on an Airbus A330-300, marking the end of more than two years of temporary freighter operations during the coronavirus pandemic.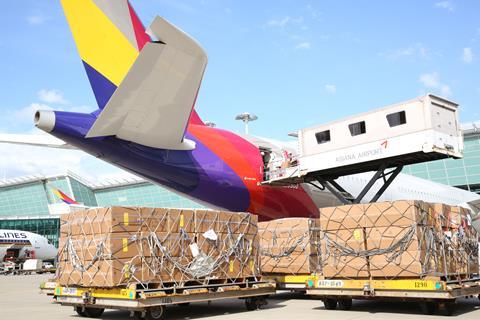 In September 2020, the airline converted an A350 for freighter operations to meet a rising demand for cargo flights amid a collapse in passenger travel. The airline was among a growing number of carriers in the region adopting "preighter" operations.
Asiana would go on to convert three more A350s and another three A330s to bolster cargo operations, a move that allowed it to carry 70,000t more cargo in over two years.
Asiana says the temporary freighter operations have brought in about W370 billion ($300 million) in additional revenue, with demand the strongest to and from North America.
Since late 2021, and as border gradually began to reopen, airlines have slowly ended their temporary freighter operations. In April 2022, European regulators also said they would not be extending approvals for temporary passenger-to-freighter conversions.