Turboprop manufacturer ATR plans to deliver the same number of aircraft in 2020 as the previous year.
Italy's Leonardo – a partner in the joint venture with Airbus – records 68 deliveries in 2019, along with taking in 65 orders: 24 for the ATR 72-600 and 41 for the smaller ATR 42-600. Rival De Havilland Canada recorded respective figures of 19 and 15 for its competing Dash 8-400.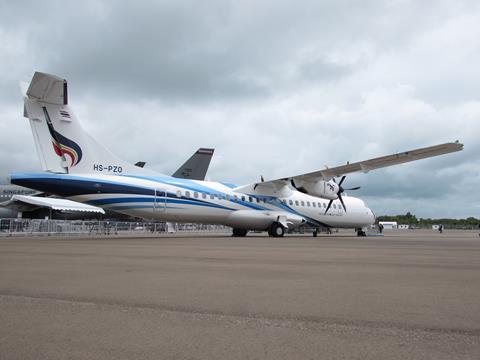 Alessandra Genco, Leonardo chief financial officer, says that this year's production plan is "in line with 2019", but notes that prior to the coronavirus outbreak, the objective was for a "slight increase" in deliveries.
"What we are seeing now is a temporary slowdown in conversations with customers in Southeast Asia associated with slower traffic of Chinese tourists in the region," she told analysts on a 13 March full-year earnings call.
However, she stresses that it is too early to tell "how the year will unfold", and points out that the "fundamentals of the business and strength of ATR as a product remain untouched".
ATR has a 75% share of the turboprop market, she notes.
Last year, work was completed on the new ATR 72-600 freighter – deliveries are due to begin in 2020 – while the airframer also launched a new short take-off and landing variant, Leonardo notes.