Deliveries of ATR turboprops barely reached double-figures last year as the joint-venture manufacturer saw demand slump due to the pandemic.
In all, the airframer shipped just 10 aircraft in 2020 – with nine of those handed over in the final quarter. That marks a sharp decline on the 68 units it delivered in 2019.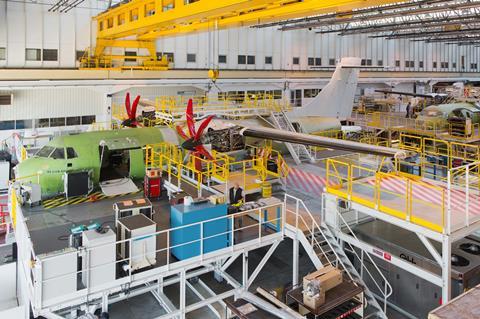 The total is revealed in the full-year accounts of Leonardo, a 50% shareholder in ATR alongside Airbus.
Leonardo builds fuselages for the ATR 42-600 and ATR 72-600 at plants in the south of Italy, shipping them to Toulouse in France for final assembly.
Just 26 fuselages were delivered to the joint venture in 2020, down from 68 a year earlier.
Leonardo does not expect a significant improvement in ATR's performance this year either: deliveries will be "far below" pre-Covid levels, it says.
Production cuts at Airbus and, more significantly, Boeing, combined to hammer the company's aerostructures unit.
Leonardo is responsible for two composite fuselage barrels and the horizontal stabiliser on the latter's 787: last year it shipped 105 fuselage sections and 72 stabilisers against 164 fuselages and 92 stabilisers in 2019.
Revenues in the division fell to €820 million ($976 million) from €1.1 billion a year earlier. EBITA losses widened to €86 million from €11 million in 2019.
As a result of forecast lower medium-term demand for civil aircraft, Leonardo is taking action to address the impact on its aerostructures business, including the "early retirement" of around 500 employees in the division.