French start-up Aura Aero has frozen the design of its 19-seat hybrid Electric Regional Aircraft (ERA) but has pushed back service entry by at least a year.
Changes over previous iterations of the ERA design include the use of eight rather than six electric motors and a shift from a U- to a T-tail configuration.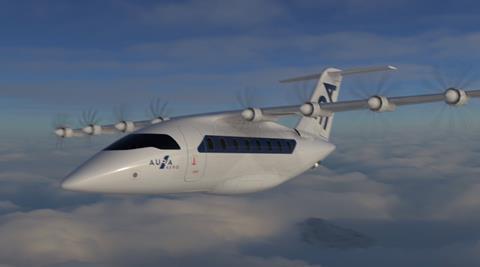 Unveiling the "final shape" of the ERA at an event in Toulouse on 12 May, co-founder and chief engineer Jeremy Caussade said it was the company's strategy to have a product on the market by 2030.
However, the service-entry target has slipped to 2028 from a previous goal of 2027, with the first flight now not anticipated before 2026 rather than late-2024.
Explaining the delay, Caussade says, "We have now arrived at a point where we have a clear view of what we have to do" regarding the aircraft's development.
A "precise" timeline is also needed to better inform the cost structure required for the planned production ramp-up, he adds. "The goal for us is to come [to market] as soon as possible with a solid value proposition."
Chief technology officer Mattia Padulo says the configuration change was to deliver "a solution more integrated with the aerodynamics of the aircraft".
Smaller motors can also use air-cooling, he adds, helping to reduce the maintenance cost and operating complexity of the aircraft.
Aura is keeping the ERA as a commuter-class aircraft – in line with Europe's CS-23 category — with a maximum take-off weight of 8.6t.
Others in the space, notably Heart Aerospace, have increased the size of their designs as development progressed, pushing into the CS-25 category for large transport aircraft.
But moving beyond CS-23 "means playing in a much more complicated regulatory framework", says Padulo. "It is a sign of realism to keep it in CS-23."
Based on current technology, batteries would also become a "bigger burden" on a larger type, he notes. However, he declines to specify the weight of its proposed battery pack.
Although the energy density of batteries is likely to increase before the ERA arrives in 2028, Caussade says the programme has been launched based on today's technology.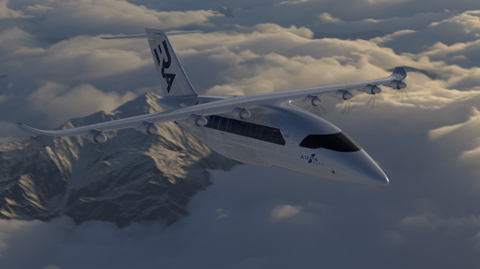 "We cannot afford to launch an industrial project with something that is maybe arriving some day," he says.
Disclosed partners on the programme include Safran, which will provide its Engenius XL electric motors and power distribution system, and Thales, which is to supply a version of its FlytX avionics suite, including integration of the energy and flight management systems . Aura, meanwhile, will develop the ERA's fly-by-wire controls in-house.
Those advances will make the aircraft "single-pilot ready", says Thales vice-president of flight avionics Jean-Paul Ebanga, and also offer the potential of fully autonomous cargo flights once regulations permit.
The prospect of dramatically cutting crew costs is one of several advantages touted by anchor customer Amedeo, with the lessor having a letter of intent (LoI) in place for up to 200 units.
"I'm extremely confident that there will be an approval to operate this plane commercially with only one pilot, or in the case of cargo without a pilot," says Amedeo chief executive Mark Lapidus.
He contends that the ERA will out-perform conventionally powered 19-seaters on all operating metrics, spurring a revival of the sub-regional category.
Lapidus also backs the decision to keep the ERA in the CS-23 category: "If you start with a CS-25 aircraft it is subject to the same rules that apply to an A380 therefore you spend a lot more money on it to begin with," he says.
At present, Aura has accumulated 330 LoIs for the ERA – a figure unchanged since late last year, although chief commercial officer Gwenola Robert promises additional customers will be unveiled at this year's Paris air show.
She also discloses that Aura is now working with US regional carrier Republic Airways, via a memorandum of understanding (MoU), to fine-tune the ERA's definition. Although Republic has an all-jet fleet, it holds a minority stake in sub-regional turboprop operator Cape Air via its Lift Academy training business.
Robert is confident the MoU can later be converted into a tentative agreement for the type: "It will come." She also reveals similar developmental relationships with US carriers CommuteAir and Alpine Air Express, a freighter operator.
But Aura has yet to turn its LoIs into firm orders as it is still too early in the aircraft's development, Robert adds.
Production of the ERA will take place at a new factory at Toulouse Francazal airport which will be capable of building up to 100 aircraft per year.
Aura claims range at maximum take-off weight will be 900nm (1,660km), and the ERA will have a maximum cruise speed of 300kt (555km/h) and a 25,000ft ceiling. All-electric range will be just 85nm, however.
This article has been edited to correct a certification category in the 10th paragraph.

Dominic Perry is deputy editor of Flight International but also contributes extensively to flightglobal.com. Although specialising in the coverage of the helicopter industry, he has written on most topics in aerospace – be they commercial, defence or business aviation. In addition, there has been an increasing focus on the decarbonisation of the industry and zero-emission flight initiatives.
View full Profile