Australia has become the first country in the Asia-Pacific to lift a ban on Boeing 737 Max flights to and from the country.
The move comes nearly two years after Australian aviation regulators grounded the narrowbody following two fatal crashes in 2018 and 2019.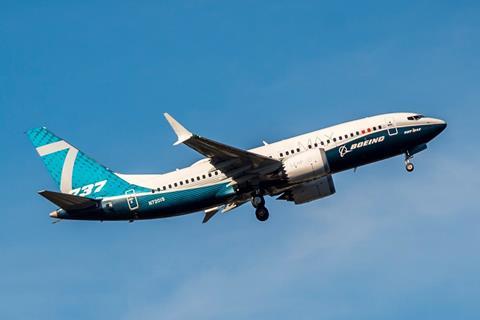 Australia's Civil Aviation Safety Authority (CASA) says it has accepted "comprehensive return-to-service requirements" set by the United States Federal Aviation Administration (FAA), as state of design for the 737 Max.
CASA acting chief executive and director for aviation safety Graeme Crawford adds: "Our airworthiness and engineering team has assessed there are no additional return to service requirements for operation in Australia."
While no Australian carrier currently operates the 737 Max, two foreign carriers — Singapore Airlines unit Silkair and Fiji Airways — previously flew the type into Australia. Virgin Australia, meanwhile, has 25 737 Max 10s on order, with deliveries commencing in mid-2023.
CASA notes that it was unclear when Singapore Airlines, which has retired the Silkair brand, or Fiji Airways might resume 737 Max operations into the country, amid disruption to global travel caused by the coronavirus pandemic.
Australia banned 737 Max flights on 12 March 2019, in a move which it called "in the best interest of safety".
The 737 Max remains grounded indefinitely across other Asia-Pacific countries, even as regulators in North America and Europe gradually clear the type to resume flying.
China, a key 737 Max market that was the first in the region and the world to ground the type, has yet to give a clear indication on when it might lift its ban.
Boeing, which said previously it was working with regulators in the region to return the 737 Max to service, welcomed CASA's move.
"CASA's safety decision is an important milestone toward safely returning the 737 Max to service in Australia. We continue to work with CASA, other regulators, and our customers to safely return the 737-8 and 737-9 to service worldwide," the airframer states.