Colombian airline Avianca has cancelled 20 Airbus A320neo purchase commitments and delayed Airbus deliveries of A320neos until 2025, marking another step in the carrier's financial transformation effort.
"The company has reduced its firm commitments to 88 A320neo aircraft from 108," Avianca says in a 7 January media release. "Previously scheduled firm A320neo-family deliveries in 2020 through 2024 have been deferred or cancelled."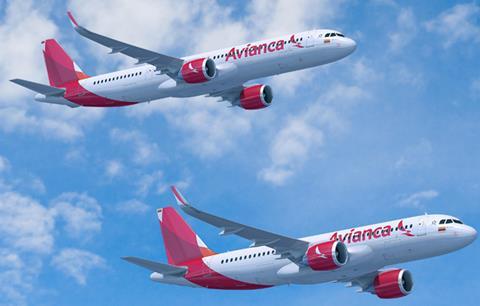 The airline now expects deliveries of new A320neo-family aircraft from Airbus to resume in 2025 at a rate of 20 annually, continuing into 2029.
However, the company also says on 7 January it reached agreements to lease up to 12 A320neos from aircraft lessor BOC Aviation for 12 years, with deliveries of those narrowbodies to start after 2023.
Terms of that deal remain unknown, as does how the revised fleet plan affects the breakdown of A320neo subtypes in Avianca's fleet.
The carrier, which did not respond immediately to questions from FlightGlobal, has held orders for both A320neos and A321neos, according to Cirium fleets data.
Avianca says it revamped the fleet plan "in cooperation with Airbus" and that the changes "tailor its aircraft commitments to its future requirements".
"These agreements provide comprehensive financial benefits, with significant [capital expenditure] reduction in the period through the end of 2024," the Bogota-based company says.
Airbus did not immediately respond to a request for comment from FlightGlobal.
The fleet changes come as part of an ongoing business transformation the company calls "Avianca 2021". That project, which aims to shore up Avianca's financial position and strengthen its Bogota hub, has already seen Avianca reduce its A320neo commitments.
Also on 7 January, Avianca says it has "reached a mutually beneficial agreement with Boeing with regards to the outstanding 787-9 deliveries".
The airline, which Cirium shows holds two outstanding 787-9 orders, provides no further details about the 787 agreement.
Boeing declines to comment.
Avianca's operation was hammered several years ago when problems with the 787's Rolls-Royce Trent 1000 engines forced the airline to ground its 787s.