Boeing has cut its commercial fleet forecast for the Chinese market amid uncertainty over whether deliveries of the 737 Max will eventually resume in China, though it stresses it still had "full confidence" in its recovery.
In its commercial market outlook, the North American airframer forecasts Chinese carriers to require close to 8,500 new aircraft – valued at around $1.5 trillion – through 2041, representing 20% of global deliveries for the next 20 years.
The figure is a downward revision of the market forecast issued in 2021, which showed Chinese airlines needing over 8,700 new aircraft by 2040.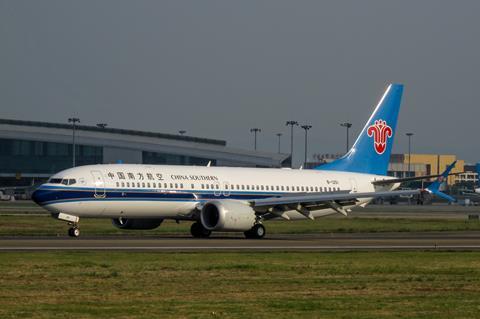 Boeing did not directly address reasons for cutting its forecast, though it notes that the slowdown in deliveries and near-term fleet growth was because of "China's uneven recovery from the pandemic".
Of the 8,500 new aircraft, about 77% will be narrowbody passenger aircraft, while widebodies will make up about 18.5%.
Boeing's commercial sales and marketing vice president for Greater China Peter Gao says the manufacturer has "full confidence" that the Chinese market will recover "and continue to prosper, despite recent economic headwinds".
More significantly, the airframer makes no mention of simmering geopolitical tensions between the USA and China, which observers say has played a part in Beijing's reticence over the 737 Max.
The forecast comes a day after Boeing chief Dave Calhoun admitted that he had "not gotten a single signal" when 737 Max deliveries will resume in China.
Boeing now has 138 Max for Chinese airlines in storage – roughly half its larger 270-strong Max inventory, according to latest data.
This uncertainty has caused Boeing to repeatedly cut its 737 Max delivery forecasts, and is among factors preventing the airframer from achieving delivery targets.
China's three largest airlines - Air China, China Eastern Airlines and China Southern Airlines - have excluded the 737 Max from near-term fleet plans, despite regulators lifting an operational ban in the country.
The airframer has also not notched any significant orders from China carriers, while European rival Airbus scored a headline order in July from the 'Big Three' for close to 300 narrowbodies. Meanwhile, homegrown airframer Comac has also had its C919 narrowbody programme certificated by Chinese regulator in October, paving the way for eventual service entry.