Boeing now pegs the financial impact of the 737 Max grounding at $18.6 billion, including estimated costs associated with concessions to customers and disruption to the now-halted production line.
The Chicago-headquartered company disclosed its latest estimates on 29 January, the same day it reported a full-year 2019 net loss of $636 million, down from a net profit of $10.5 billion the year before.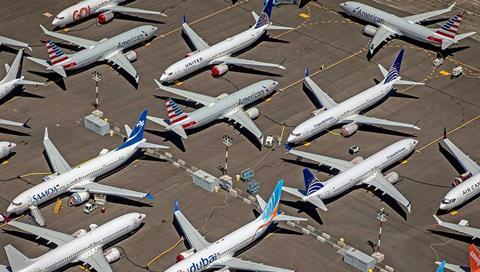 Boeing now anticipates concessions to 737 Max customers will cost it $8.3 billion, rising by $2.6 billion on the previous estimate of $5.6 billion.
Additionally, the company now predicts it will incur $6.3 billion in additional "estimated costs to produce 737 aircraft included in the accounting quality". That figure includes $3.6 billion in costs attributed to the first nine months of 2019, and an additional $2.6 billion in the fourth quarter.
Boeing also anticipates its future financial results will be hammered by $4 billion in "abnormal production costs to be incurred during the suspension and gradual resumption of production at low production rates, primarily to be expensed in 2020".
The latest projections came as the company reported financial results hammered by the 737 Max grounding, which has been in effect since March 2019.
Last year's $636 million net loss was on revenue of $76.6 billion, down 24% from $1.1 trillion in 2018.
Boeing posted a fourth-quarter net loss of $1 billion, reversing a $3.4 billion net profit one year earlier. Fourth-quarter 2019 revenue slumped 37% year on year to $17.9 billion.
"We recognise we have a lot of work to do… We are focused on returning the 737 Max to service and restoring the longstanding trust that the Boeing brand represents to the flying public," chief executive David Calhoun says.
The commercial aircraft division posted $32.3 billion in 2019 revenue, down 44% year-on-year, and a full-year operating loss of $6.7 billion, reversing an operating profit of $7.8 billion in 2018.
In 2019, Boeing Global Services earned a $2.7 billion operating profit, up 6% year-on-year, and its Defense, Space and Security business earned a $2.6 billion profit, up 57% from 2018.