Boeing forecasts that Chinese carriers will need 8,700 new aircraft — valued at nearly $1.5 trillion — over the next two decades, with more than two-thirds supporting market growth, rather than fleet replacement.
The figure makes up nearly half the total amount of aircraft deliveries forecasted for the wider Asia-Pacific region, and underpins the importance of the market to the North American airframer.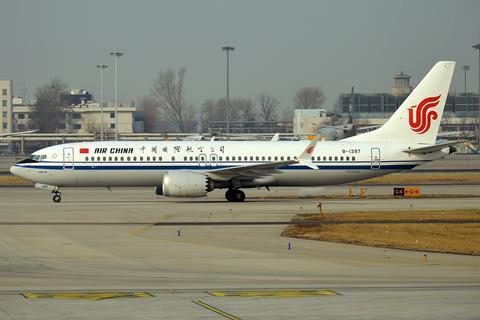 Releasing its forecast as part of its commercial market outlook for 2021 through 2040, Boeing remains optimistic of "healthy air traffic increases" in the Chinese air travel market, with an expected average annual passenger traffic growth of 5.4%.
According to Boeing projections, the Chinese domestic passenger market is expected to overtake intra-European traffic by 2030, and exceed air travel within North America by 2040.
Of the 8,700 aircraft, around 75%, or more than 6,000 aircraft, are forecast to be narrowbodies, with widebody aircraft making up 19%.
It notes that two-thirds of the forecasted aircraft deliveries will be for growth purposes, with the remaining one-third of deliveries for fleet replacement.
This, says Boeing, will "move airlines toward more sustainable, fuel-efficient airplane models".
Adds Richard Wynne, managing director for China marketing at Boeing: "The rapid recovery of Chinese domestic traffic during the pandemic speaks to the market's underlying strength and resilience. In addition, there are promising opportunities to significantly expand international long-haul routes and air freight capacity. Longer-term, there is the potential for low-cost carrier growth to further build on single-aisle demand."
On the services front, the airframer projects nearly $1.8 trillion in market opportunities through 2040, buoyed by strong fleet growth over the period.
Boeing also forecasts that China will require more than 400,000 new aviation personnel by 2040, including pilots, technicians and cabin crew.
Boeing's China outlook comes as its 737 Max continues to be grounded by Chinese aviation regulators. China is among the last to lift the grounding of the narrowbody, following two fatal crashes in 2018 and 2019.
It also comes as homegrown airframer Comac moves closer to certifying its C919 narrowbody — touted as a potential competitor to the 737 and Airbus' A320 family — for commercial service.