Bombardier is "reassessing" its involvement in the Airbus-led partnership that owns the A220, citing the need for additional cash investment and lower-than-expected long-term profits.
The Montreal-based airframer holds 33.6% of Airbus Canada Limited Partnership (ACLP), which owns the A220 business. Divesting that stake would align with Bombardier's strategy in recent years to move away from commercial aviation.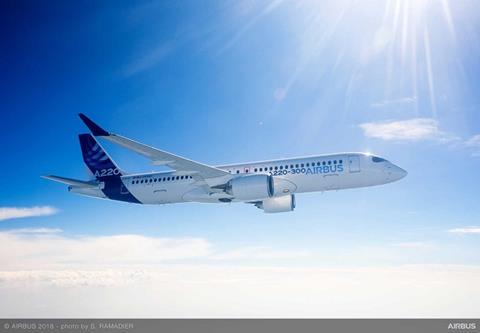 "With its exit from commercial aerospace, Bombardier is reassessing its ongoing participation in ACLP," the company says in a 16 January investor update.
The update notes that ACLP's latest financial plans "calls for additional cash investments to support production ramp-up, pushes out the break-even timeline and generates a lower return over the life of the programme."
"This may significantly impact the joint venture value. Bombardier will disclose the amount of any write-down when we complete our analysis and report our final fourth quarter and 2019 financial results," Bombardier says.
The company intends to release those results on 13 February.
Bombardier's original agreement with Airbus gives Bombardier the right to require Airbus acquire its shares of ACLP after 7.5 years of the deal's closing, which occurred in July 2018, regulatory documents show.
Bombardier did not immediately respond to requests for more information about its plans.
On 15 January, Airbus Canada chief executive Philippe Balducchi said Airbus continues to work toward reducing the A220's costs and achieving profitability, reiterating a message he delivered one year earlier. Balducchi did not provide details about Airbus's progress.
Bombardier had struggled for years under financial strain caused by designing, developing and certifying what was then called CSeries. It raised a white flag in 2018, handing majority ownership of the programme, for free, to Airbus.
The programme has since resided under the ACLP joint venture. In addition to Bombardier's 33.6% share, Airbus owns 50.06% of ACLP and a third partner, financing organisation Investissement Quebec, owns 16.36%.
As part of the divestiture, Bombardier agreed to "fund the cash shortfalls" of the programme, up to $350 million in 2019 and another $350 million during the 2020-2021 period. In exchange, Bombardier receives shares paying 2% annual dividends, regulatory documents show.
Bombardier, Airbus and Investissement Quebec are also on the hook for any additional cash the programme needs during the period.
As of 30 September 2019, Bombardier had invested $575 million in ACLP, documents show.
Bombardier's CSeries divestiture sparked a broader exit by the company from commercial aviation. It has since sold the Q400 turboprop programme and aerospace manufacturing and services sites in Northern Ireland, Morocco and Dallas.
Bombardier is also progressing with an agreement to sell its CRJ programme to Mitsubishi Heavy Industries, with an expected close in the first half of 2020.
The company says it intends to focus on business jets and its transportation business, which makes railcars.