Comac's C919 narrowbody will make its first public appearance at this year's Airshow China, over a month after the type was certificated by Chinese regulators.
A notice from the show's organisers states that the C919 will be performing a 15-minute flying display daily. Airshow China, held in Zhuhai, runs from 8 to 13 November.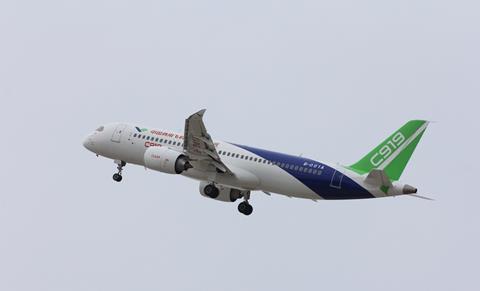 The C919 was a notable no-show in the 2021 edition of the biennial show, which was postponed from 2020 owing to pandemic restrictions. It also missed the 2018 show, having just began flight testing.
Leading up to the 2021 air show, the C919 – touted as China's answer to the Boeing 737 and Airbus A320 family narrowbodies – was widely expected to make its public debut.
Comac did not disclose any reason for the type's no-show, though reports suggested that the programme was facing production and certification delays owing to tightened US export rules. Though a Chinese aircraft programme, the C919 is largely reliant on Western technologies: the aircraft is powered by two CFM International Leap-1C turbofans, for example.
The C919 was certificated by Chinese regulators in late-September, paving the way for an eveutal service entry with launch customer China Eastern Airlines by the end of the year. The Shanghai-based carrier has five examples on order.
Apart from the C919, another Chinese programme making its airshow debut is the updated variant of AVIC's AG600 amphibian, the AG600M. The aircraft recently clinched customer commitments and will appear in the flying display for three of the six show days.
The AG600M has been performing rounds of test flights, and in September successfully completed a series of water-drop tests. The aircraft had conducted its first water-to-water sortie from the reservoir on 29 August, three months after its maiden sortie on 31 May.