Canadian cargo carrier CargoJet is redeploying some of its international capacity to domestic overnight routes, in order to bolster the supply chain to the country's far north, largely indigenous communities which are only accessible by air.
"Cargojet is a critical service provider in the Canadian supply chain and is experiencing significantly higher demand and volumes from e-commerce and health care and essential supplies," Canada's CargoJet says on 19 March.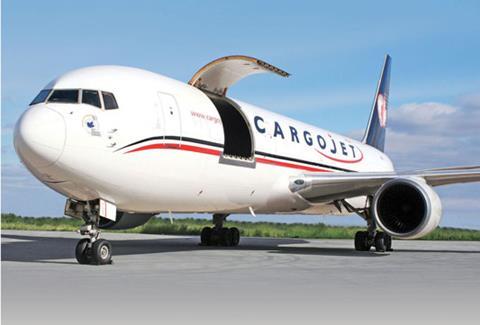 "With significant curtailment in passenger airline capacities, moving cargo to the northern communities is even more important. We are paying special attention to ensuring that supply-chains to northern communities remain strong," CargoJet adds.
The all-cargo carrier, based in Mississauga, Ontario, is Canada's biggest provider of time-sensitive premium overnight air cargo services. The carrier serves 15 cities and selected international destinations with a fleet of 23 Boeing 767 aircraft.
"We are redeploying aircraft that are currently serving international scheduled and charter routes back to our Canadian overnight network, and to support the integrated supply chains of Canada-USA-Mexico routes which are essential to maintain timely access to essential supplies," the carrier writes.
"We are preparing to handle additional volumes through our day time flights in case volumes exceed the overnight network capacity on certain key routes. We are well equipped and planning to handle any surge in volumes should that be necessary by adjusting schedules and routes."
Cargo has become an increasingly important slice of the aviation industry after passenger service dropped sharply since the beginning of the coronavirus pandemic. Earlier this week, industry association IATA appealed to governments to take "urgent measures" to support air cargo operations, which are instrumental to transport essential medical supplies and keep the economy functioning.
IATA adds that air cargo has been "a vital partner in delivering much-needed medicines, medical equipment (including spare parts/repair components), and in keeping global supply chains functioning for the most time-sensitive materials." It adds that organisation says cargo carriers are working closely with governments and health authorities to make sure this can happen.