Volga-Dnepr Group-linked UK freighter operator CargoLogicAir has collapsed into administration, finally succumbing to the sanctions imposed on Russian businesses in the wake of its invasion of Ukraine.
CargoLogicAir, which prior to the imposition of sanctions on Russian businesses employed 100 people at its London Heathrow base, on 16 November appointed David Buchler and Jo Milner of Buchler Phillips as joint administrators.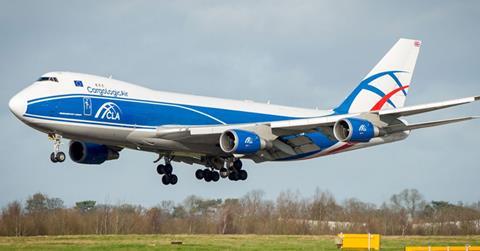 Buchler Phillips says airline has been "unable to trade effectively" since majority shareholder Alexey Isaykin was "was made the subject of UK government sanctions against businesses deemed Russian controlled" following Moscow's invasion of its neighbour.
Isaykin is a Soviet-born businessman with Cypriot citizenship. He was also president of Volga-Dnepr Group until cutting ties with the business in August.
Additionally, Isaykin was a director of CargoLogicAir – resigning in June when he was added to the UK's sanctions list – alongside Konstantin Vekshin, a US citizen who was also chief executive of Volga-Dnepr Group from January this year until stepping down from that position in June.
CargoLogicAir had received permission for "minimal continuance of operations" from the UK tax authorities, says Buchler Phillips, but "ran into problems operating its bank accounts on a timely basis," it notes.
"The company faced increasing difficulties with its bankers despite having considerable funds in its account which should have left the company solvent."
In 2020, the company made a profit of £41 million ($49 million) on turnover of £149 million.
Even prior to the addition of imposition of sanctions on Isaykin, CargoLogicAir had struggled to trade, with its two UK-registered Boeing 747-400 Freighters essentially idle from March.
The two jets have since been sold: G-CLAA has been acquired by US carrier National Airlines and reregistered as N537CA, while sister Jumbo G-CLBA is listed as owned by Moldovan carrier Aerotranscargo, and is due to be leased in by UK-based Air One from the end of November, Cirium data records.
No action was ever taken against CargoLogicAir's UK air operator certificate by the Civil Aviation Administration, however, and the carrier was not subject to a ban on Russian-owned aircraft from entering UK airspace.
David Buchler adds: "The appointment of administrators at CargoLogicAir is a very unfortunate, unintended consequence of sanctions generally applied against British businesses perceived as Russian controlled.
"This is a unique British business performing a valuable commercial service to British customers trading overseas, employing British people and paying British tax."
The fifth paragraph of this article has been edited to clarify the position of Konstantin Vekshin in relation to the Volga-Dnepr Group.

Dominic Perry is deputy editor of Flight International but also contributes extensively to flightglobal.com. Although specialising in the coverage of the helicopter industry, he has written on most topics in aerospace – be they commercial, defence or business aviation. In addition, there has been an increasing focus on the decarbonisation of the industry and zero-emission flight initiatives.
View full Profile