Singapore's Changi Airport is to resume operations at Terminal 4 in September, more than two years after shutting it indefinitely at the onset of the coronavirus pandemic, as it eyes full traffic recovery to pre-pandemic levels by the end of the year.
Airport operator Changi Airport Group (CAG) adds that it will open half of Terminal 2 – which was also shut in 2020 for upgrading works – for operations from October.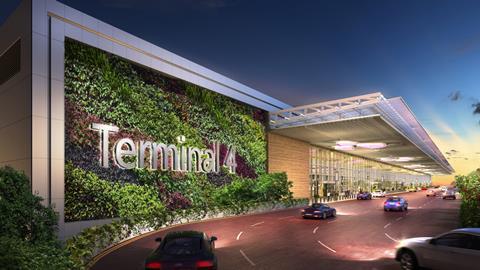 Airlines previously operating into Terminal 4 will be expected to return to the terminal when it opens. These carriers include AirAsia, Cathay Pacific, as well as Korean Air.
"Details on airlines to be operating at Terminal 2 will be announced in due course," CAG adds.
The decision to reopen Terminal 4 comes as passenger traffic into the city-state shows a strong rebound, particularly after the full easing of travel restrictions on 1 April.
CAG says passenger traffic in the first seven days of June was close to half of pre-pandemic levels, and that the number is expected to increase further.
To this end, it says the move will "enable the airport to meet the full recovery of pre-Covid-19 passenger traffic" in the northern winter season, which begins on 30 October.
CAG notes that airlines have already requested "to launch more flights" for the winter season.
CAG chief Lee Seow Hiang says: "The fast rebound in travel demand has given us great encouragement to prepare Changi Airport for the full recovery of passenger volume back to pre-Covid-19 levels. The additional capacity offered by [Terminals 4 and 2] will put Changi Airport in a good position to capture this recovery and support the business and operational needs of airlines."
CAG in late-May said it would be reopen a small section of Terminal 2 to host peak-hour arrivals for airlines operating from Terminal 3. It is the start of a two-year "progressive reopening" plan for the terminal, following an extensive upgrade which will increase operating capacity.
Singapore also recently announced it would be restarting work on its Terminal 5 mega-project, after a two-year pause.