Chinese civil aviation regulators appear to have certificated Comac's C919 narrowbody jet, a significant milestone which paves the way for a possible service entry by year-end.
Images on Chinese social networking site Weibo show that a certification ceremony taking place in Beijing on 29 September, with what appears to be representatives from the Civil Aviation Administration of China (CAAC) handing the type certificate over to Comac representatives.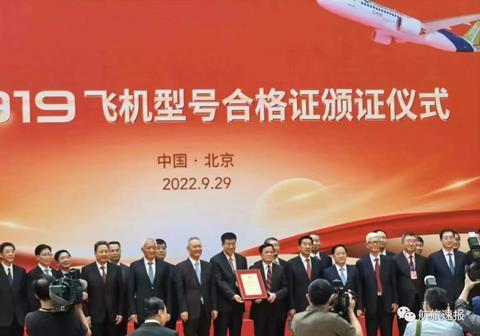 A sign behind the representatives states that the event was a "C919 aircraft type certificate issuance ceremony".
Two C919s – B-001F and B-001J – flew from Shanghai, where Comac is based, to Beijing, where the CAAC is located, in the lead-up to the certification event. On 30 September, the two jets returned to Shanghai, according to flight-tracking data.
However, neither Comac nor the CAAC have publicly disclosed the certification. In an even more unusual move, state media has also not reported on the C919 certification.
The CAAC's approval comes more than five years since the first test aircraft took off on its maiden sortie.
In late-January, Chinese media reports, citing a Comac senior executive, said C919 deliveries were likely to happen within the year.
In May, the first customer-bound C919 carried out its first test flight, with a 3h sortie from Shanghai.
By late July, Comac said all flight tests were completed, a development hailed as a "crucial victory" for the programme, which China hopes will rival the Airbus A320neo and Boeing 737 Max programmes.
China Eastern Airlines is the programme's launch customer, with five firm orders. Comac also holds commitments for over 300 aircraft.
The latest development comes a day before China's its National Day celebration, a week-long holiday steeped in patriotism.
The C919 programme has been beset by delays in recent years, in part due to growing geopolitical tensions between China and the USA.
While a Chinese aircraft programme, the C919 relies heavily on Western technology, including for its engines – CFM International Leap-1Cs – as well as cockpit control and interior systems from Collins Aerospace.
China has begun looking at developing a locally-made powerplant for the aircraft, but work on that has so far failed to gather momentum.