China Eastern Airlines has firmed up orders for five Comac C919s, with the first example reported to arrive within the year and start operating major domestic trunk routes.
The Shanghai-based carrier, which in 2016 indicated its intentions to be the launch customer of the narrowbody programme, signed a purchase contract with the Chinese airframer on 1 March.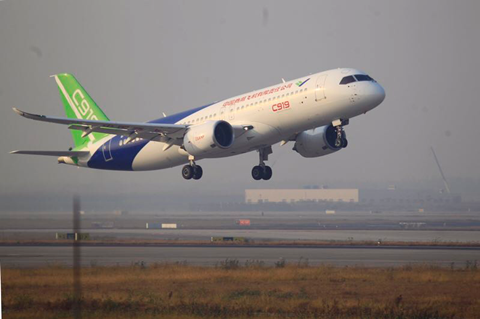 The latest announcement follows the signing of a cooperation framework agreement at Airshow China 2016, where China Eastern stated it would begin discussions on firming up an order for five jets a year after the C919's first flight.
The SkyTeam carrier first signed a letter of intent for 20 C919s in 2010.
While both parties did not state when the first aircraft will be delivered, Chinese state media reports indicate the first delivery is likely to be within the year.
The C919 programme entered its final flight test stage in November 2020, after receiving the type inspection authorisation from China's civil aviation regulators. It stems from China's ambition to create an aircraft to compete with Boeing's 737 and Airbus' A320 programmes.
Comac has been quiet about specific timelines, except to say that it hopes to receive the type's airworthiness certificate by this year, allowing it to commence deliveries.
China Eastern states that the five C919s will be based in Shanghai, and will operate to major Chinese cities, including Beijing, Guangzhou, Chengdu and Xiamen. Comac produces the C919 close to Shanghai Pudong Airport, which will help support the type's service entry.
Comac adds that this will not only "increase China Eastern's market share" in the respective markets, it will also bring a "new experience of flying a domestically-manufactured" aircraft for passengers.
It is unclear if the jets will be operating with China Eastern, or with its newly-launched low-cost unit OTT Airlines. In February 2020, China Eastern launched OTT Airlines, short for One-Two-Three, to operate Chinese-made aircraft, including Comac's ARJ21 regional jet, as well as the C919.