China Eastern Airlines has taken delivery of its first Comac C919 narrowbody, as it targets operating them on commercial flights in early 2023.
The aircraft, registered B-919A (MSN107), took off on its delivery flight from Shanghai's Pudong airport to Hongqiao airport, which is also in the eastern Chinese city.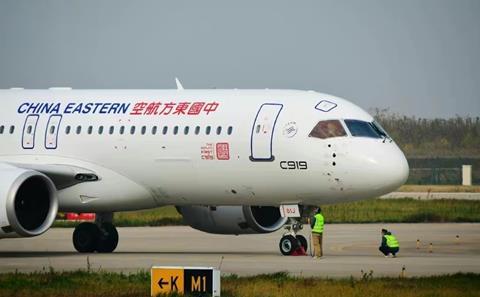 Shanghai-headquartered China Eastern has five examples on order and is the type's launch customer.
At this year's Airshow China held in Zhuhai, seven Chinese lessors inked commitments for 300 C919s, providing the programme an orderbook boost.
The airline says its C919s are configured to seat 164 passengers in two classes, a marked shift from earlier plans to let its low-cost unit OTT Airlines operate the type.
The latest development comes less than two weeks after the C919 programme – touted as China's answer to the Airbus A320 and Boeing 737 family aircraft – was awarded its production certificate, paving the way for mass production of the type.
In late-September, the Civil Aviation Administration of China certificated the C919, a move the Shanghai-based airframer hails as a significant milestone for the country's aerospace sector.
In May this year, the first aircraft bound for China Eastern carried out its first test flight, performing a 3h sortie from Shanghai.
The C919 programme has been beset by delays in recent years, in part due to growing geopolitical tensions between China and the USA.
While a Chinese aircraft programme, the C919 relies heavily on Western technology, including for its engines – CFM International Leap-1Cs – as well as cockpit control and interior systems from Collins Aerospace.