China's 'Golden Week' holiday at the start of October failed to provide any meaningful uplift for domestic traffic, as the country's three largest carriers saw a drop in traffic against 2020 levels.
In October, the 'Big Three' — comprising Air China, China Eastern Airlines and China Southern Airlines — carried more passengers against September, but a fast-growing wave of coronavirus infections in swathes of the country put the brakes on any significant increase in traffic.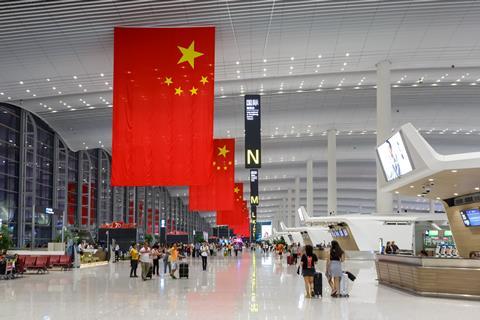 Chinese domestic traffic bottomed out in August as the country battled one of the countries worst waves of infections, which saw onerous travel restrictions imposed.
Since then, it has slowly climbed back up, but the continued wave of cases — coupled with China's strict zero-infection policy — have dampened recovery momentum.
Air China carried 6.4 million domestic passengers in October, 16% higher than September, but a 23% drop against October 2020 numbers.
Traffic for the month fell 23% year on year, while capacity dropped 16.1%. Month on month, the Beijing-based carrier saw a 14% increase in traffic and a 9.6% rise in capacity.
As for China Eastern, it carried 7 million domestic passengers in the month, a 22% decline year on year. Compared to September, it was about 16% higher.
Traffic for the month fell about 23% year on year, while capacity shrank 8.6%.
China Southern, meanwhile, flew 8.6 million domestic passengers, representing a 27% drop compared to 2020. Month on month, it was a 6% increase.
Against October 2020, the Guangzhou-based airline reported a 27% decline in traffic, while capacity fell 20%. When compared to September, traffic and capacity only inched up slightly, at 3.9% and 2.4%, respectively.
The 'Big Three' widened their net losses for the third quarter of the year, as travel demand declined amid a spike in infections.