The latest wave of coronavirus infections in parts of China dampened domestic traffic during the week-long National Day holiday period in early October.
Between 1 and 7 October, Chinese carriers flew close to 9.3 million domestic passengers, a 20% decline compared to the same period in 2020, according to data from the Civil Aviation Administration of China (CAAC).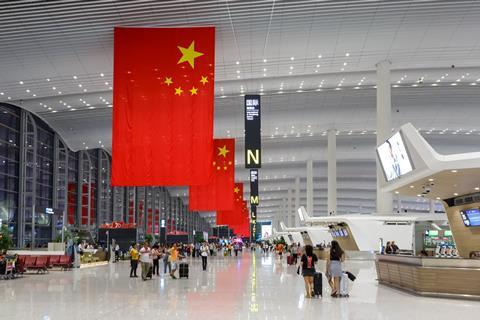 In total, Chinese carriers mounted more than 90,000 domestic flights during the 'Golden Week' holiday, which is usually seen as a peak travel season in China.
Average load factor across the seven-day period fell 4.8 percentage points to 73.7%, states the CAAC.
The administration notes that travel peaked on 30 September and 1 October, before dipping, and peaking again toward the end of the week-long holiday.
"Affected by the recent epidemic in individual regions in China, the number of inbound and outbound passenger bookings and passenger load factors in most tourist cities…were slightly lower than the same period last year," states the CAAC.
China in July and August saw a surge in coronavirus infections, fuelled by the more infectious Delta variant. Consequently, several provinces and cities imposed stricter social gathering rules, and interstate travel was discouraged.
China's three largest carriers in August saw traffic levels fall to its lowest in 2021, with capacity also suffering significant cuts.