China's Comac has clinched commitments for 300 C919 narrowbodies from a group of seven lessors, marking the programme's first orders since gaining type certification more than a month ago.
The orders – announced on the airframer's social media account – also comprise commitments for 30 ARJ21 regional aircraft. The seven lessors are: CDB Leasing, ICBC Leasing, CMB Financial Leasing, Bocom Leasing, CCB Financial Leasing, SPDB Financial Leasing, as well as Jiangsu Financial Leasing.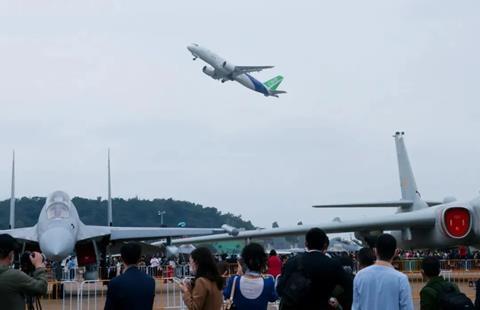 While Comac did not provide a breakdown of how many aircraft each lessor will be taking, Chinese media reports state that the five largest lessors within the group will each take 50 C919s.
The announcement came on the first day of the biennial Airshow China held in Zhuhai. This year's edition sees the C919 make its public debut, both on static and flying displays.
In its social media post, Comac says the orders "fully expresses the confidence" that the leasing sector has for its C919 and ARJ21 programmes.
The C919 – touted as China's answer to the Boeing 737 and Airbus A320 family narrowbodies – was certificated by Chinese regulators in late-September, paving the way for eventual deliveries to launch customer China Eastern Airlines.
The Shanghai-based carrier has five examples on order, and was the only customer with firm orders.
Comac's order disclosure also comes as it released it 20-year market outlook for China, where it forecasts the country's airlines to add more than 9,000 new aircraft through 2041. Narrowbody aircraft, like its C919, will make up around 75% of all new aircraft, with widebodies about 20%.
Its report also notes that the Chinese fleet size will go above 10,000 aircraft by 2041, making up more than 20% of the global fleet.