China Express Airlines has become the country's seventh operator of the Comac ARJ21 regional aircraft, after taking delivery of its first example.
The aircraft, registered B-650P, is the first of at least 50 examples the privately-owned regional carrier will operate.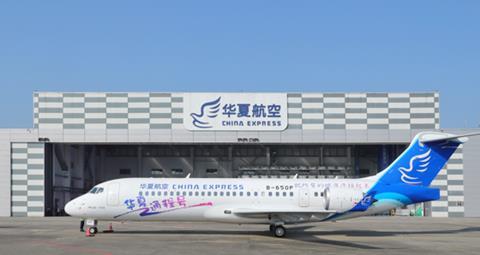 At the handover ceremony on 10 November, Comac hailed the "important milestone" in the regional jet's programme, noting that China Express' massive order represented "a key step in the large-scale…development of domestic commercial aircraft".
In late October, China Express detailed its agreement to take up to 100 domestically-built jets — Comac's largest single order to date — through 2025. Of these, 50 are orders for the ARJ21, and the remaining 50 are either ARJ21s or the C919 narrowbody, which is still under development. China Express discloses that the remaining 50 aircraft are still subject to negotiations with Comac.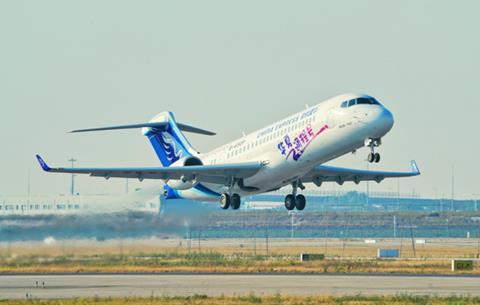 In June, the Chongqing-based carrier signed a partnership agreement framework with Comac, covering both the orders, as well as cooperation in other areas like aircraft design, maintenance, as well as market development.
Cirium fleets data indicates China Express to have a fleet of 13 in-service Airbus A320s, as well as 38 in-service CRJ900s. The carrier also has one A320neo and three CRJ200s in storage.