Comac has delivered a second C919 to launch customer China Eastern Airlines, as the carrier looks to ramp up operations with the type.
The Chinese airframer on 14 July handed over the C919 (B-919C) in a ceremony held at its Shanghai facility. China Eastern took delivery of its first of five C919s in December 2022, and put it into commercial service in May.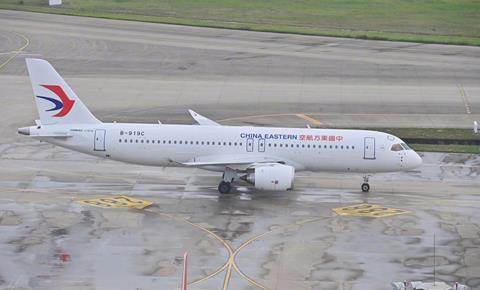 According to Comac, the second C919 – formerly test aircraft B-001K – was assembled in February this year, and completed flight tests in June.
China Eastern plans to operate the type on flights between Shanghai and Chengdu, similar to its first example, with more routes expected to be announced "in the future", according to local news reports.
The delivery comes days after fellow Chinese operator Suparna Airlines firmed up its leases for 30 C919s. On 13 July, Shanghai-based Suparna, a unit of Hainan Airlines group, signed a co-operation framework agreement with lessor SPDB Financial Leasing and Comac.
Hainan Airlines group carriers Suparna and Urumqi Air first disclosed commitments for 60 C919s in April, in a 100-aircraft order that included 40 ARJ21 regional jets. The order provided a much needed boost for the C919 programme, which has been beset by production and certification delays.
China has pinned high hopes on the C919 programme, touting it as a homegrown alternative to the Boeing 737 family and Airbus A320 family.