Comac's in-development C919 narrowbody is a step closer to certification, following the completion of flight testing.
The Chinese airframer on 23 July says its six C919 test aircraft have "successfully completed test flight tasks", marking the "final step" in getting the aircraft certified by regulators.
Comac hailed the latest development – which comes five years after the first test aircraft embarked on its first flight – as a "crucial victory" for the C919 programme, which it hopes will rival Airbus' A320neo and Boeing's 737 Max programme.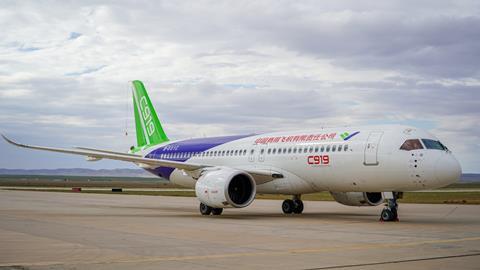 China Eastern Airlines is the programme's launch customer, with five firm orders. Comac also holds commitments for over 300 aircraft.
While the airframer did not disclose when it expects the C919 to enter service, local media reports indicate that China Eastern will take delivery of its first aircraft in August.
Comac had previously targeted to have the C919 certificated by end-2021, though its fleet of test aircraft were still undergoing test flights at the start of this year. In late-January, Chinese media reports, citing a Comac senior executive, said C919 deliveries were likely to happen within the year.
In May, the first customer-bound C919 carried out its first test flight, with a 3h sortie from Shanghai.
The C919 programme has been beset by delays in recent years, in part due to growing geopolitical tensions between China and the USA.
While a Chinese aircraft programme, the C919 is highly dependent on Western technologies, including its two CFM International Leap-1C turbofans.
A 27 September report from Reuters, citing unnamed sources, said the C919 programme was likely to miss "certification and production targets", amid stricter US export rules. Since December 2020, the US tightened export regulations to China, with companies deemed as having links to the Chinese military subject to special export licensing requirements.