Comac expects Chinese airlines to take 9,084 new aircraft over the next two decades, as the Shanghai-based airframer eyes a robust domestic rebound from the coronavirus pandemic in the long term.
The estimate — valued at $1.4 trillion — is also higher than rival airframer Boeing's market outlook for China, which forecasts Chinese carriers to take 8,700 aircraft over the same period.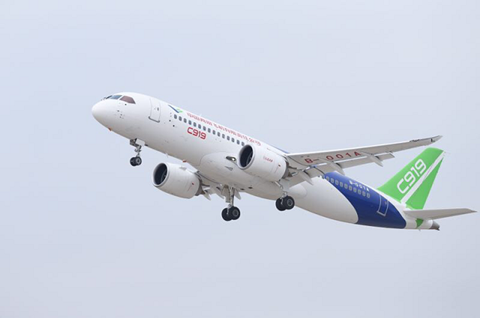 Of the new aircraft, nearly 70% are forecast to be narrowbodies, which includes Comac's in-development C919 aircraft. About 20% are widebody aircraft, with regional aircraft making up the balance.
Comac adds that by 2040, the Chinese airline fleet will reach close to 10,000 aircraft, making it the largest single civil aviation market in the world.
The 20-year market outlook was released to coincide with the 2021 edition of Airshow China in Zhuhai. At a market outlook briefing, Comac officials acknowledged that the pandemic, which originated in Mainland China, has led to "significant changes" around the world, not least the global aviation market.
It remains optimistic about a strong rebound from the pandemic, noting the "pent-up demand" in major domestic markets like China, as well as the United States.
Wu Yongliang, Comac's chief accountant, also alluded to geopolitical tensions — understood to be between China and the West — as a major challenge to the industry in the future.
Comac's C919 programme was recently mired in controversy, after reports emerged that Comac might be unable to meet production and certification deadlines, amid stricter US export rules.
Comac had expected to receive type certification for the C919 by year-end, which will allow it to deliver the first example to launch customer China Eastern Airlines.