Embraer is still considering the launch of a new turboprop airliner by the beginning of 2023, as development activities on the project continue.
Speaking in February, Arjan Meijer, head of its commercial aviation business, indicated that a launch announcement could come by the end of 2022 or in early 2023.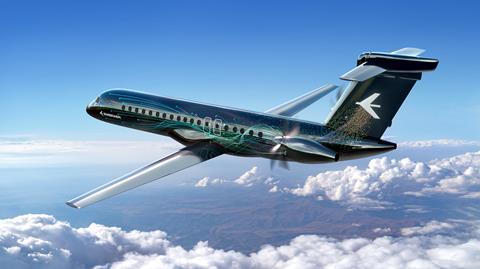 And detailing the airframer's first-quarter results on 28 April, Embraer chief executive Francisco Gomes Neto reiterated that timeline.
"We expect to be ready to make a final decision on the business case by the end of the year, beginning of 2023," he says.
Describing the project as "moving very well", Gomes Neto says tests of different concepts are being performed; preliminary development work will continue throughout the year, helping to inform Embraer's eventual recommendation.
In parallel, the company is evaluating how to fund the development if it chooses to proceed, he says.
Embraer has been considering the launch of a new generation turboprop for several years and is proposing both 70- and 90-seat turboprops.
The pair will use the same fuselage as its E2 regional jet family, which will simplify production and improve passenger comfort, the airframer has said.
Meanwhile, Gomes Neto is confident that additional orders for its E-Jet regional aircraft family will be concluded in 2022, with several campaigns ongoing, driven by a domestic air travel recovery in the USA and Europe, and fleet renewal requirements. Its book-to-bill ratio is expected to be 2:1, he says.
The rising oil price also "reinforces the relevance of the E2 family as the most efficient narrowbody in fuel consumption", he says.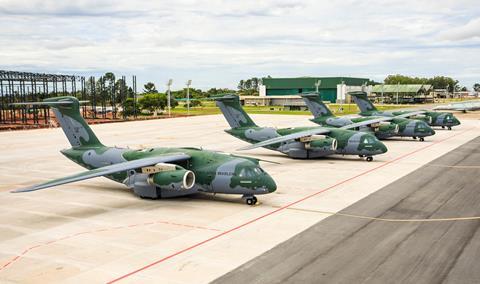 Embraer is maintaining its delivery guidance for the year of 60-70 commercial aircraft and 100-110 executive jets, "even with the challenging supply chain situation due to the war in Ukraine and shortages of products worldwide".
In executive aviation, Embraer remains upbeat on the market, selling 35 jets in the first three months of the year, its strongest first-quarter sales total since 2016, when it sold 36 executive aircraft. Backlog rose by 12% over the same period last year, he says.
"I think our sales in the first quarter are showing that the demand continues [to be] strong.
"There will be some changes in the future but we believe in a soft landing in the market. We are seeing a lot of first time buyers and there is interest in small and medium-sized jets – exactly where we have our portfolio of products."
However, the performance of its defence unit will lag in 2022, with turnover projected to be around $600 million.
"We see a tough year this year for defence. We are working on several initiatives to improve the performance of that unit," says Gomes Neto.
But he stresses that the "new market environment", driven by the ongoing Ukraine conflict, "will help us a lot, not only in 2023 but in the years ahead", enabling a return to annual revenues of $1 billion.
Several campaigns are ongoing centred on its C-390 Millennium airlifter and A-29 Super Tucano turboprop "and we expect acceleration for sales campaigns for these products". Orders are expected in 2022 and 2023 for deliveries in the short and medium term.
"This is a change, we believe, due to the situation in Europe, between Russia and Ukraine," he says.