Singapore's Changi Airport Group (CAG) swung to the red in its annual financial results, as it felt the "enormous turbulence" wrought by the coronavirus pandemic.
Changi Airport, a global air hub in pre-pandemic times, saw passenger traffic plunge 98%, as air travel ground to a halt. Passenger movement for the 2020 calendar year shows only 11.8 million passengers, nearly 83% lower year on year.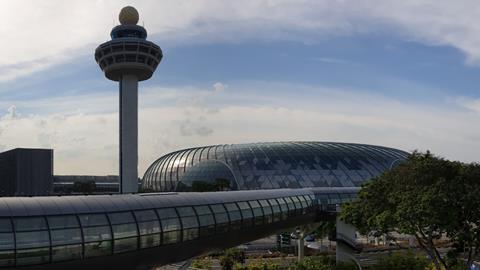 For the year ended 31 March, CAG reported an operating loss of S$736 million ($547 million), reversing the S$866 million profit it reported the previous financial year.
Group revenue tumbled 78% to S$697 million, as a result of the steep decline in passenger numbers. However, CAG notes that any further revenue decline was mitigated by an uptick in cargo takings, as well as efforts to diversify its alternative revenue sources.
Total expenses fell 36% year on year, to S$1.43 billion, as the group aggressively embarked on cost-cutting measures.
Two of Changi's four terminals have been closed amid the pandemic, while the development of the airport's fifth terminal has been put on an indefinite hiatus.
CAG also "extensively renegotiated" service contracts amid a drop in passenger traffic, and cut salaries across the group and imposed a hiring freeze.
The group reported a net loss of S$954 million for the year, after taking account non-cash impairment and depreciation charges. This compares with the S$438 million net profit it made in the previous financial year.
Says CAG chairman Tan Gee Paw: "This has been the most difficult time in Changi Airport's history. The enormous turbulence brought about by the global Covid-19 pandemic has decimated Changi's air traffic and severely jolted the airport's operations and future development plans."
CAG chief executive Lee Seow Hiang, meanwhile, was cautiously optimistic about prospects surrounding a strong cargo market.
Lee notes that cargo throughput at the Changi Airport in April this year was nearly twice pre-pandemic levels.
"Despite the pandemic, Changi Airport welcomed four new airfreight carriers during the last 15 months and it continues to play a critical role in supporting global supply chains and ensuring that supplies to Singapore remain uninterrupted," he adds.