Jetstar Group has hit back at Singapore's Changi Airport Group (CAG) over plans to relocate its operations to the airport's Terminal 4, accusing the airport operator of "unilaterally" arriving at the decision.
In a tersely-worded statement issued on 22 July, an "extremely disappointed" Jetstar adds it "has no intention" of relocating until an agreement is reached.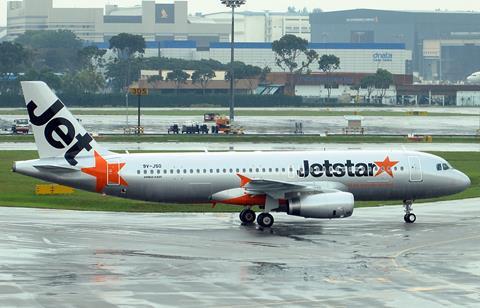 However, it appears the airline group will have to eventually move to the new terminal: a response from the airport operator says relocation was "the only option" to allow it to optimise gate usage, though it was ready to make "special provisions" to facilitate the move.
Jetstar's comments – a rare show of dissent from an airline in Singapore – came an hour after CAG announced plans to reopen Terminal 4, which had been shut for more than two years amid a pandemic-driven downturn, on 13 September.
Singapore-based Jetstar Asia and Australian unit Jetstar were to move to Terminal 4 on 25 October, joining 14 other carriers, including Cathay Pacific, Korean Air, as well as airlines in the AirAsia Group.
Both Jetstar and Jetstar Asia currently operate out of Changi's Terminal 1, alongside parent airline Qantas, with whom they have a codeshare partnership. Jetstar Asia also has codeshare agreements with other airlines such as Emirates and Air France-KLM, which also operate out of Terminal 1.
Jetstar says it agreed to "joint study" with CAG over the feasibility of shifting operations only a week prior to the relocation decision.
"[This] announcement completely disregards that agreement and the impact a move would have on our customers, our people, and our operations," the airline group says in its latest statement.
It adds: "While we remain committed to working with CAG, today's announcement by the airport ignores our concerns and goes against the spirit of the long-standing partnership we have built over the years."
In its response to Jetstar's statement, CAG notes that it had engaged Jetstar about switching terminal operations in pre-pandemic 2019, when the airport was "experiencing tight capacity during peak hours".
Back then, the "best solution" was to move the low-cost group's operations to Terminal 4, " which would provide headroom to support Jetstar's and other airlines' growth at Changi, while at the same time ensuring that passenger experience is not compromised".
In 2022, and with passenger travel demand at Changi rebounding quickly, CAG says there was extra impetus to "rebalance the airport's traffic across its terminals quickly in the coming months" to meet an anticipated traffic uptick.
The relocation of terminal operations will "allow Changi Airport to optimally use aircraft gates, especially during the early morning peak period", when a number of Jetstar Asia flights depart, adds CAG.
"CAG has noted the concerns shared by Jetstar and has assured the airline that as much as possible, special provisions would be made to cater to the needs of its passengers to ensure a smooth travel experience. To facilitate the relocation, CAG has also accepted Jetstar's suggestion to form a joint taskforce to ensure a smooth transition for Jetstar to operate in T4," the operator states.
ABOUT TERMINAL 4'S REOPENING
Terminal 4 suspended operations in May 2020 amid the coronavirus pandemic, which pummelled travel demand to Singapore. The newest terminal in Changi Airport will reopen on 13 September, a move CAG says will add to overall airport capacity, "ensuring that the air hub can meet the increasing demand for air travel and support airlines' plans to launch more flights".

In all, 16 airlines will be gradually relocated to the terminal, including past Terminal 4 operators Korean Air and Cathay Pacific, which will move on opening day. AirAsia Group will move on 15 September, while Cebu Pacific, Juneyao Air, Jeju Air, Bamboo Airways and HK Express will follow suit on 20 September. On 22 September, Vietnam Airlines, Vietjet Air and Thai Vietjet Air will move, with Jetstar Group on 25 October.