Alternative propulsion developer Universal Hydrogen says the Federal Aviation Administration has granted it a special airworthiness certificate in the experimental category, clearing the company to begin flight testing its demonstrator aircraft, a modified De Havilland Canada Dash 8-300.
The California-based company also said on 7 February that it has already started taxi tests with the aircraft, "designed to evaluate ground handling qualities and the performance of the fuel-cell electric powertrain".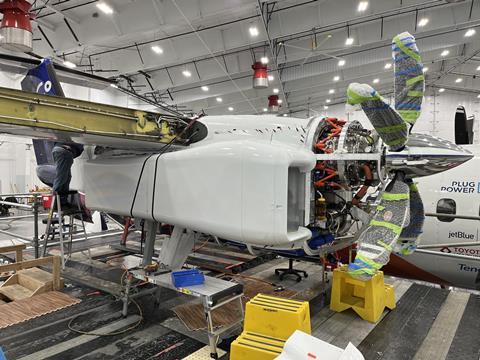 "We are simultaneously providing a pragmatic, near-term solution for hydrogen infrastructure and delivery, as well as for converting existing passenger aircraft to use this lightweight, safe and true-zero-emissions fuel," says Paul Eremenko, Universal co-founder and chief executive.
The flight testing will take place at Grant County International airport in Moses Lake, Washington, the company says.
Universal also released video of its first taxi tests, saying first flight is "coming Q1 2023".
The company came on the scene in 2020 as a start-up working to capitalise on what it views as the aerospace industry's likely embrace of hydrogen as aircraft fuel. Universal is working to create a hydrogen-fuel supply and distribution infrastructure, and developing a fuelling system that involves use of swappable hydrogen-filled fuel tanks called "modules".
Additionally, Universal is developing hydrogen-fuel-cell conversion kits for ATR and Dash 8 turboprops.
"The powertrain [on the test aircraft ] is in a configuration that closely resembles the company's first product — a conversion kit for ATR 72-600 regional airliners — which is expected to be certified and in commercial passenger service starting in 2025," the company adds.
Last month, Universal posted a video of its propulsion system in operation on the wing of the Dash 8-300. It also released an image showing the powertrain, which includes a large nacelle.