Federal Aviation Administration employees who work at an Indianapolis air traffic control centre and the tower at John F Kennedy airport in New York have tested positive for coronavirus.
The FAA will thoroughly clean the facilities, and has either relocated workers or transferred work to other sites, it says.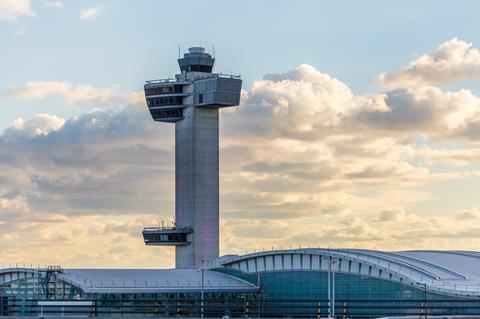 One technician at JFK tested positive. That person had not been in the tower since 16 March, when he was there for a "brief visit" during which he did not visit the tower "cab", says the FAA.
"As a precaution, we scheduled a thorough cleaning of the tower cab, equipment room, administrative offices and elevators to ensure a safe work environment for all our employees," it adds.
Until the JFK tower is cleaned, controllers will work from "an alternate location on airport property", a move that follows a contingency plan.
The FAA's website reports delays of only 15min or less at JFK.
The agency also reports it is "sanitising three work areas in the Indianapolis Air Route Traffic Control Center…. after an air traffic control supervisor tested positive for COVID-19".
"The work areas were vacated Thursday night," it adds.
Flights handled by the Indianapolis site have been rerouted, also as part of a contingency plan, though the FAA does not specify the impact.
The Indianapolis site oversees air traffic over some or all of Indiana, Illinois, Kentucky, Ohio, West Virginia, Virginia and Tennessee, an FAA document shows.
Flight tracking website Flightradar24.com shows a vast swath of empty airspace over parts of Ohio and West Virginia.