FedEx has temporarily grounded some cargo aircraft and reduced the frequency of freighter flights in response to a slowdown in global demand for package deliveries.
The Tennessee-based shipping and logistics company said on 15 September that "macroeconomic weakness in Asia and service challenges in Europe" led to a first-quarter revenue shortfall of about $500 million for the company's air delivery service FedEx Express.
FedEx's response has been a "reduction in flight frequencies and temporarily parking aircraft", the company says without disclosing more details.
The move follows years of significant growth for the broader air cargo market. FedEx and competitor UPS specialise in carrying express packages, a segment benefiting from the rapid growth of e-commerce, particularly during the pandemic.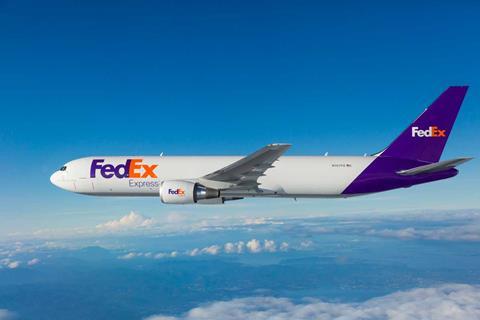 FedEx's revenue from its ground-shipping division was also down about $300 million, relative to its forecast, for the three-month period ending 31 August 2022.
"Global volumes declined as macroeconomic trends significantly worsened later in the quarter, both internationally and in the US," said Raj Subramaniam, who was appointed president and chief executive of FedEx in March 2022. "We are swiftly addressing these headwinds, but given the speed at which conditions shifted, first quarter results are below our expectations."
Shares of FedEx plunged more than 20% on 16 September in response to the company's cost-cutting measures and gloomy outlook on the global economy.
FedEx declines to provide details about the grounded aircraft, though the company anticipates reduced demand through fiscal year 2023.
FedEx has a massive hub in Louisville and operated 675 aircraft at the end of May, according to its most-recent financial report. The fleet included Boeing 777 Freighters, MD-10Fs, MD-11Fs, 767Fs, 757Fs, Airbus A330-600Fs, ATR turboprops and Cessna Caravans and 408s.
UPS declines to comment about whether it will take similar measures to save costs.
FedEx expects "business conditions to further weaken" in the second quarter. It also withdrew its 23 June earnings forecast for FY2023, citing "expectations for a continued volatile operating environment".
The company is also delaying hiring new staff, and is closing more than 90 FedEx Office locations across the USA.