China Southern Airlines has restarted commercial flights with its Boeing 737 Max aircraft after a hiatus of nearly four years, marking the return to service of the type in the country amid little fanfare.
The airline deployed the type on two domestic routes – Zhengzhou and Wuhan – from its Guangzhou hub on 13 January.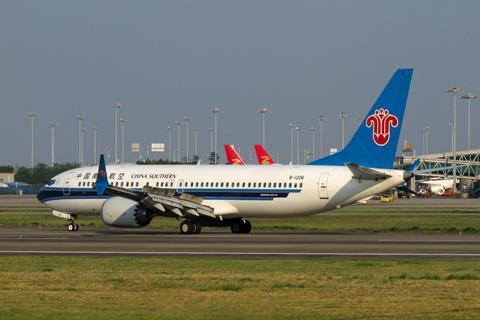 According to Cirium data, flight CZ3960 (operated by B-1206/MSN63245) for Zhengzhou took off from Guangzhou at around 12:45 local time. It landed after a 2h 30m flight.
At around 14:27, a second 737 Max 8 (B-1127/MSN63268) took off from the southern Chinese city, bound for Wuhan as flight CZ8726. Flight tracking data shows it is expected to land at around 15:35 local time.
The two flights do not appear to be one-off operations: China Southern has scheduled the 737 Max to operate the two flights in the future, suggesting a wider return to service within the airline.
The 737 Max's return to service in China was first reported by Reuters on 11 January. The agency cited the airline's mobile application as showing the 737 Max scheduled to operate the two flights on 13 January.
Cirium fleets data shows China Southern has a fleet of 24 737 Max 8s. So far, other Chinese operators have yet to disclose their plans to return the 737 Max to service.
The 737 Max was grounded globally in 2019 following two fatal crashes. While Chinese regulators lifted an operational ban of the type in 2022, Chinese carriers have been less than eager to return the type to service, even excluding 737 Max deliveries from near-term fleet forecasts.
Boeing in October 2022 flagged uncertainty about the ourtlook for the popular narrowbody in the key Chinese market. It has also not notched any significant orders for the 737 Max from China carriers in recent year, while European rival Airbus scored a headline order in July from the 'Big Three' for close to 300 narrowbodies.