A French government-backed aerospace consortium has launched a study of a single-aisle jet running on 100% sustainable aviation fuel (SAF), with the flight-test campaign kicking off on 28 October.
During the first sortie under the VOLCAN project, one of the two CFM International Leap-1A engines powering an A319neo (D-AVWA) ran on unblended SAF. Aircraft tracking website FlightRadar24 suggests the mission lasted a little under 3h.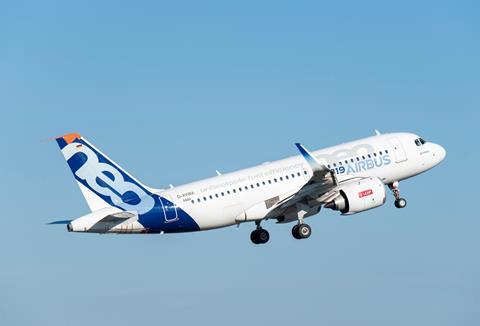 Oil and gas producer Total Energies supplied the SAF, which is mainly derived from used cooking oil, as well as other waste fats.
Around 57t of the fuel will be used for the test campaign. From next year it will also be utilised for "compatibility and engine operability studies" on the Safran Helicopter Engines Arrano turboshafts which power the Airbus Helicopters H160.
Initial results from the project's ground and flight tests are expected in 2022.
The aim of the VOLCAN programme is to promote the large-scale use of SAF, and to ensure unblended fuel can be certificated for operation in single-aisle commercial aircraft and the latest generation of business jets.
Members of the consortium are some of European aerospace's leading lights including Airbus, Dassault Aviation, Safran, and the French and German research centres ONERA and DLR.
Airbus and the DLR are responsible for analysing the impact of 100% SAF on ground and in-flight emissions, while Dassault is contributing to material and equipment compatibility evaluations.
Safran, meanwhile, is performing fuel system and engine compatibility and optimisation studies; the propulsion specialist will perform Leap engine ground tests using 100% SAF at its Villaroche facility later this year. It is a partner in the CFM joint venture with GE Aviation.
ONERA is supporting Airbus and Safran in verifying the compatibility of the fuel with aircraft systems, plus analysing the test results for the impact of 100% SAF on emissions and contrail formation.
VOLCAN is funded by the French government through its Plan Relance support package for the country's aerospace industry