Joby Aviation and GKN Aerospace have signed a multi-year agreement to supply the air taxi developer with thermoplastic flight control surfaces.
"We are very excited to be joining forces with GKN Aerospace," says JoeBen Bevirt, founder and chief executive of Joby "Their remarkable experience in aerospace manufacturing, combined with our innovative approach, will play an important role in making sure we deliver the best possible aircraft for this exciting new market."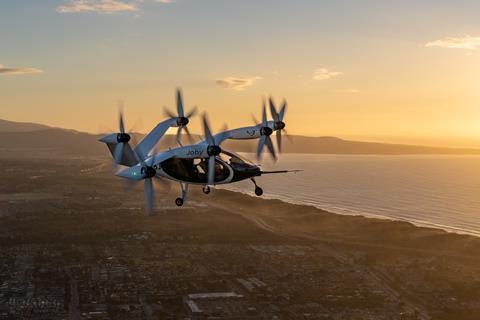 GKN Aerospace has been working closely with Joby on the application of the concept, specifically tailored to the Joby electric vertical take-off and landing (eVTOL) aircraft.
"The flight control surfaces will be composed of a lightweight thermoplastic structure assembly, manufactured using an advanced out-of-autoclave production method," GKN says. "This cutting-edge manufacturing process will enable high-rate production while delivering on the high-performance requirements of Joby's aircraft."
The development and initial production work will be carried out at the company's global technology centre, in Hoogeveen, The Netherlands, before transitioning to GKN Aerospace's facility in Chihuahua, Mexico.