Hainan Airlines has disclosed commitments for 60 Comac C919 narrowbody aircraft and 40 ARJ21 regional jets, providing an orderbook boost even as the airframer grapples with service entry delays.
The commitment was disclosed on 28 April, a day after Hainan, strategic investor Liaoning Fangda, as well as subsidiaries Urumqi Air and Suparna Airlines, signed a framework agreement with Comac for the purchase of ARJ21 and C919 aircraft.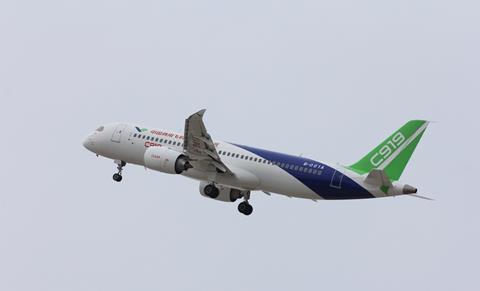 Of the 100 aircraft, 30 C919 narrowbodies are expected to go to Xinjiang province-based Urumqi Air. Hainan, in a stock exchange filing, says it will firm up its orders only after "core terms" of the agreement have been negotiated with the Shanghai-based airframer, including on delivery arrangements.
"Comac will try its best to meet Urumqi Air's demand… according to production capacity," the statement reads. It adds that Urumqi Air will, "as the first batch of C919 operators", enjoy "preferential policies… in commercial conditions", without elaborating further. The Hainan statement does not mention the remaining 70 jets.
According to Cirium fleets data, the carrier operates a fleet of 16 Boeing 737-800s, and has five ARJ21 regional aircraft on order.
If the commitment is firmed up, Urumqi Air, based in China's Xinjiang province, will be the second disclosed airline customer for the C919 after launch operator China Eastern Airlines, which took delivery of its first example in December 2022. However, China Eastern has yet to introduce the single-aisle on commercial flights, after reportedly encountering complications during test flights.
The C919 was certificated by Chinese regulators in late September last year, a move Comac said was a significant milestone for the country's aerospace sector. Then in November, at Airshow China, seven Chinese lessors inked commitments for 300 C919s.
The C919 programme has been beset by delays in recent years, in part due to growing geopolitical tensions between China and the USA.
While a Chinese aircraft programme, the C919 relies heavily on Western technology, including for its engines – CFM International Leap-1Cs – as well as cockpit controls and interior systems from Collins Aerospace.
This story has been updated with new information from Comac on the total order size.