Swedes are renowned for their modesty, where the concepts of Jantelagen – an unwritten rule forbidding boasting – and lagom – loosely translated as 'just the right amount' or 'appropriateness' – are woven into the national psyche.
So when Anders Forslund, chief executive of Gothenburg-headquartered Heart Aerospace, sums up his company's recent announcements simply as "exciting times", you cannot help but think that the tendency for understatement is at work.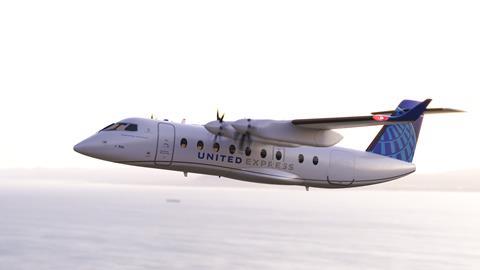 In case you missed them, the start-up on 13 July revealed two key developments: first that US carriers United Airlines and Mesa Airlines had placed conditional orders for a total of 200 of the company's in-development ES-19 all-electric aircraft, and had taken options on a further 100; second, those operators and other investors, including the Bill Gates and Jeff Bezos-backed Breakthrough Energy Ventures had put $35 million into the company as part of its Series A fundraising.
For a company whose aircraft has yet to fly to attract the interest of one of the USA's big three and its regional partner is a remarkable feat, but arguably these are remarkable times.
But to Forslund though, it is a validation of his vision: that the economics – and zero-emission operation - promised by battery-powered 19-seaters can reinvigorate a part of the market that has been in large part abandoned due to the expense of flying turbine-equipped aircraft.
"That's the thing: people didn't stop flying 19-seaters because they didn't fly far enough but because of the terrible unit economics of putting a [turbine] engine in an aircraft that flies 19 passengers," he says.
"This is what we are focused on – we believe there is a market that is larger than a lot of people understand."
Mesa, he points out, in the 1990s operated one of the world's largest fleets of 19-seat aircraft – those falling into the CS-23/Part 23 commuter category – flying an average route length of just 172 miles (276km).
Heart says its electric motors are 20 times less expensive than equivalent turboprop engines to run, with maintenance costs which are 100 times lower; compelling claims for those considering their approach to the sub-regional or commuter segment.
But those figures are, for now at least, largely theoretical, no matter how robustly they may have been calculated.
Heart has ambitions of achieving certification and service entry by 2026, on the back of a maiden sortie in 2024; flight testing will be completed with three aircraft, plus additional examples for ground test.
So far, the start-up has assembled and run a 400kW propulsion system, one of four such motors on the ES-19 for a total take-off power requirement of at least 1.2MW. It is "the first step" in building its aircraft, says Forslund, although the most crucial one: "The biggest technical challenge is to show we can build an electrical propulsion system."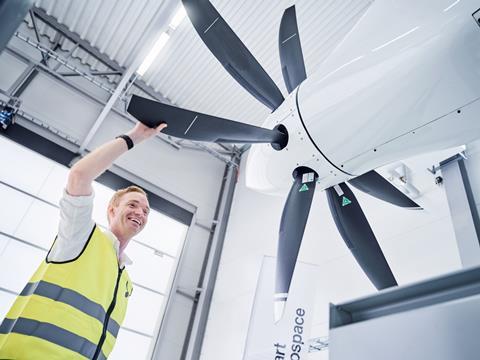 On top of being able to propel the aircraft, the batteries must also be capable of powering all the other vital on-board systems – the avionics, de-icing, cabin systems – and, crucially, it has to be certifiable too.
In the meantime, Heart continues to build up its supply chain for the ES-19. So far, the only disclosed partner is UK battery specialist Electroflight, but Forslund says discussions are on going with a number of other potential suppliers.
He sees the aircraft as essentially a "Lego kit built by a lot different suppliers", in other words, as a start-up, Heart is anxious to "limit the number of things we take on in house".
In fact, aside from the engines, there is a tendency towards simplicity in the overall design; as Forslund puts it "the innovation and novelty is inside the nacelles".
For example, the wings and fuselage are aluminium rather than composite, helping both manufacturability and in-service repairability. That also means the route to market is simpler and faster – crucial for proving out the technology in the real world.
There is one area which will require some additional consideration, however. Unlike those with conventional engines, battery-powered aircraft do not become lighter during the flight as fuel is burned off. Therefore, the ES-19's maximum take-off and maximum landing weights are one and the same, sitting at the upper end of the CS-23 regulations at about 8.6t (19,000lb).
That means while storing the batteries in the wings is "structurally efficient" in flight, it will put additional stress through the structure on landing; the landing-gear too will have to be able to take more punishment than is typical for a 19-seater.
But Forslund believes the problem is a solvable one: "There is technology and architectures out there that for landing gear which can accommodate this. It is one of the early things we have to figure out."
And although its service-entry target of 2026 is only five years away, Forslund points out that Heart has been working on the ES-19 since 2019. "I don't want to sound like this is some lofty goal that has not been aligned with our suppliers: this is what we tell our suppliers and EASA, this is what we are working towards. Ultimately I am confident in our roadmap."
On top of those from United and Mesa, Heart has so far attracted around 245 commitments, he says. But Forslund believes that the total market for the ES-19 can be measured in thousands of aircraft, particularly as its performance increases over time as battery energy densities improve.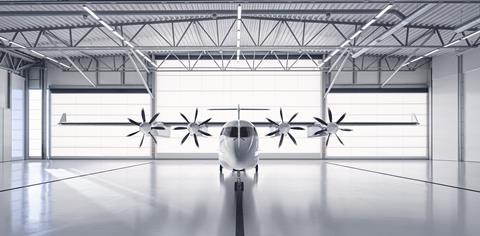 That will of course require a suitably sized production facility. While no decision has been taken on its ultimate location, Forslund says the plant should be capable of producing hundreds of aircraft per year.
But to hit that level of output, Heart is counting on the operational savings from electric power to spark life into a part of the market that has been a bit of a backwater for many years.
It is hard to come up with a perfect aircraft to compare the ES-19 against given the range of missions they perform, but the 19-seat Viking Air DHC-6-400 Twin Otter does at least count several airlines among its customer base. Demand seems consistent, if modest: over the last two years, Viking handed over a total of 19 examples of the twin-engined turboprop, Cirium data suggests. To get close to the 100-shipment mark, you have to drop down in size to the nine-seat Pilatus PC-12, of which there were 82 deliveries in 2020, according to data from the General Aviation Manufacturers Association.
Initial examples of the ES-19 will have limited range – Forslund says they will be targeting routes of around 108nm (200km) or less – as their batteries will be optimised for these short-range missions; charging time and longevity will instead be prioritised.
But he is confident improvements in battery density will happen, and quickly. For example, cell manufacturer Cuberg is already working on next-generation battery technology that promises better energy density at lower cost. Cuberg has several links with Heart: it is a supplier to Electroflight, and in March was acquired by Northvolt, a Swedish battery specialist whose chief executive Peter Carlsson is also an advisor to the aircraft manufacturer.
Forslund points out that the requirement to change battery packs after they have been through a certain number of cycles means that operators will, in effect, "get a better aircraft on a yearly basis".
That energy density improvement will also enable Heart to develop a larger future aircraft of "approaching 50 seats", although Forslund is keeping mum on the timeline.
While Heart's Series A funding round raised $35 million, Forslund estimates that some $500 million will be needed to bring the ES-19 into service. New backer Breakthrough Energy Ventures has interests in a huge portfolio of green energy businesses, potentially allowing Heart to tap into broader experience. In fact, Breakthrough is also funding hydrogen propulsion developer ZeroAvia, underlining Forslund's belief that he does not see "electric aircraft as a silver bullet to solve all of aviation's emissions".
But it is worth remembering that Heart was founded on the back of decarbonisation initiatives in Norway and Sweden, which aim for fossil fuel-free domestic flights by 2040 and 2030, respectively.
Although Norwegian regional carrier Wideroe has selected the Tecnam/Rolls-Royce P-Volt electric aircraft for its future fleet, it would be surprising if other carriers in the region did not eventually firm up their interest - Finnair holds a tentative deal for 20 aircraft and SAS is advising the project – in the ES-19.
Meanwhile, Heart continues to work through the aircraft's development milestones from its home at Save airport, a former air base to the northwest of Gothenburg. Sweden's second city is, he says, the country's "electric mobility capital" and is ideally located close to Norway and Denmark.
But with Forslund a Gothenburg native, there is perhaps an added advantage of being based not far from home: "When we got started, sometimes I would call my dad to ask him to bring over a tool that we are missing," he says with a smile.