Hong Kong has pledged to reclaim its status as an international aviation hub, as it introduces a raft of measures to boost the recovery of passenger traffic at Hong Kong international airport (HKIA).
In the city's first annual budget speech since onerous zero-infection restrictions were scrapped, finance secretary Paul Chan says the Airport Authority Hong Kong, which operates HKIA, will roll out a series of initiatives, including reducing or waiving certain airport charges, as well as incentives for airlines to resume operations to Hong Kong.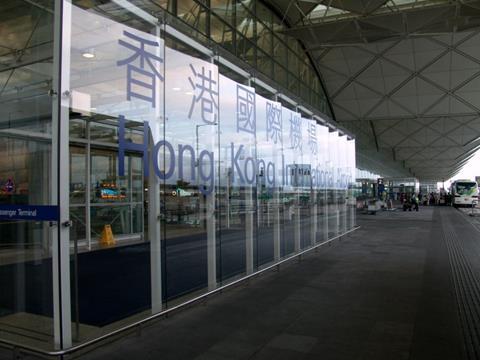 Hong Kong passenger traffic collapsed amid the pandemic, as the city hewed close to the 'zero-Covid' policy of Mainland China, resulting in its borders remaining mostly shut for more than two years.
Once among the world's busiest airport, HKIA saw passenger volumes shrink to a small fraction of pre-pandemic levels, as airlines began suspending flights, with some even completely exiting the market altogether.
It was only around late-2022 that the city began easing restrictions, including scrapping mandatory quarantine. The move resulted in a rise in HKIA passenger numbers for January, up 28-fold to 2.1 million.
Chan, speaking on 22 February, adds that his government will press ahead with developing the HKIA area into an 'Airport City' – a "node of various economic activities with aviation as its core business".
The finance secretary adds that HKIA's Three Runway System expansion project will be completed by end-2024.
"HKIA will have its capacity substantially increased and its position as a regional multi-modal transportation hub further enhanced. The above developments will significantly boost passenger and cargo traffic of the HKIA, creating tremendous opportunities for activities such as aircraft repair and maintenance, aircraft parts manufacturing and relevant research and development," he says.
The Hong Kong government will also introduce legislation to enhance the aircraft leasing preferential tax regime, in a bid to re-establish itself as an aircraft leasing hub.
"The government has conducted a trade consultation on the proposed enhancement measures, which include allowing tax deduction for the acquisition cost of aircraft and expanding the scope of leases and aircraft leasing activities. This has been welcomed by the trade," says Chan.
The budget announcements were welcomed by Hong Kong carriers, which have bore the brunt of a collapse in travel demand.
Cathay Pacific group chief Ronald Lam says: "We are actively rebuilding Cathay Pacific for Hong Kong, the Greater Bay Area and the Chinese Mainland. We are focused on reconnecting – by growing our flight capacity and network of destinations as soon as feasible."
Meanwhile Greater Bay Airlines CEO Stanley Hui says the measures "will not only benefit Hong Kong's economic growth but will also make Hong Kong a more competitive international aviation hub and aircraft leasing and financing centre".