Hong Kong has done away with quarantine requirements for locally-based air crew, the latest step in the city's easing of strict pandemic controls.
A statement on 9 September says air crew can return home after obtaining a negative nucleic acid test result upon arrival.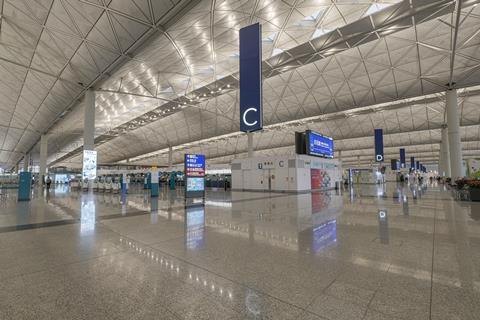 Previously, all arriving crew would have to quarantine for three nights before being allowed to return home, an unpopular measure that led many foreign carriers to scrap flights to the city.
Home carrier Cathay Pacific had also urged the local government to ease the quarantine measures, stating that it was affecting its ability to restore capacity.
The Hong kong government believes the latest measures will help airlines resume flights to the city, stating: "It believes the adjustments will effectively help airlines to enhance flight services between Hong Kong and other parts of the world, and enable Hong Kong to play its role as an international aviation hub and facilitate recovery of normal economic and social activities."
It adds that the move is unlikely to increase the number of local cases: "[The Hong Kong government] notes that the number and proportion of positive cases involving arrival air crew were minimal, far lower than that of the relevant numbers of general inbound travellers."
However, it stresses that airlines will have to "put in place robust mechanisms" to ensure compliance to existing medical surveillance requirements.
The easing of quarantine comes more than two months after Hong Kong lifted its 'circuit breaker' flight ban rule, where airlines found to be carrying more than five passengers infected with Covid-19 were slapped a five-day operational ban.
In late-April, the city allowed allowed non-resident visitors to enter the city – for the first time in more than two years – though it upheld quarantine and testing requirements.
Hong Kong's strict zero-infection strategy has led to a collapse in tourist arrivals, and more crucially for the Asian financial hub, an exodus of business travellers.