The US travel industry has welcomed a new public health determination that fully vaccinated people may travel domestically without being subject to Covid-19 tests or mandatory quarantines.
The determination comes as part of new travel guidance issued by US heath agency Centers for Disease Control and Prevention (CDC) on 2 April.
However, the CDC adds that vaccinated people should still follow mask- and physical-distancing rules, and wash their hands frequently in order to minimise the risk of transmission.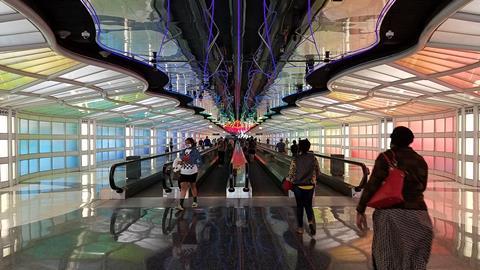 "The CDC's new travel guidance is a major step in the right direction that is supported by the science and will take the brakes off the industry that has been hardest hit by the fallout of Covid by far," says US Travel Association chief executive Roger Dow on 2 April. "As travel comes back, US jobs come back."
The Travel Technology Association adds that "Americans are eager to begin travelling again, and this new guidance is an important step towards the recovery of the travel and tourism industry and the broader US economy".
Airline industry executives have said in past weeks that customer demand rebounded in the first quarter as US vaccination efforts got into full swing. Potential travellers are relieving pent-up demand from a year of travel restrictions, and feel more comfortable planning travel, airlines said.
Many carriers have ramped up schedules for May and the coming summer months, and in some cases are offering more capacity than they did during the same months in 2019, the year prior to the pandemic.
According to the CDC, by 1 April about 39% of the US population older than 18 years had received at least one vaccine dose. The government has promised every US citizen access to a vaccine by 1 May.
International travel is lagging domestic demand due to restrictions still in place for both US citizens headed overseas and inbound passengers who are not citizens or permanent residents.
On 22 March, 23 trade organisations signed a letter to the US government in which they urged officials to review travel restrictions and develop a roadmap for re-opening the country to foreign tourists by 1 May.
Signatories included Airlines for America, the Aerospace Industries Association, the Regional Airlines Association, IATA, pilot union Southwest Airline Pilots Association and the US Chamber of Commerce.
US borders were closed to most non-citizens and non-residents in March 2020, after the World Health Organization (WHO) declared the coronavirus a global pandemic. When the new administration of President Joe Biden took office in January 2021, it extended the entry ban for many countries, including Brazil and most nations in Europe.
Trade groups fear a second summer closed to international tourism will destroy the industry and result in further job losses.