Turboprop joint venture ATR should hand over at least 20 aircraft this year as regional carriers begin a slow recovery from the Covid-19 crisis.
Deliveries in 2020 plunged by 85% year on year, to 10 aircraft, as the pandemic torpedoed demand. In addition, the airframer recorded just six gross orders for the twin-turboprop.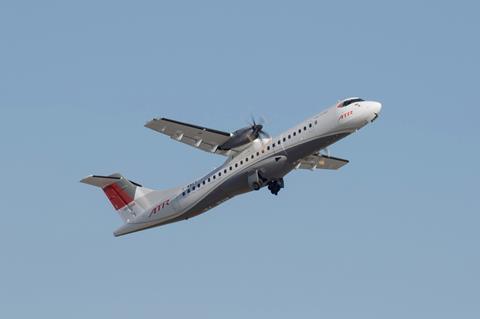 But Leonardo, a 50% owner of ATR alongside Airbus, sees a slight improvement this year: deliveries will be "at least double" 2020's total, chief financial officer Alessandra Genco told a full-year results presentation on 10 March. However, that total is will below the 68 aircraft shipped in 2019.
Losses from the programme will also be reduced this year, she says.
ATR's backlog currently stands at 176 aircraft and the airframer continues to see "vibrant customer demand" despite the "very difficult context", says Genco.
However, Genco says that the closure of many smaller ATR operators due to Covid meant that a glut of used aircraft came onto the market, affecting demand for new examples.
Nonetheless, she says that the manufacturer's position as "market leader" will be in reinforced as "the other platforms that were competitors have somewhat disappeared from the scene".
While Genco did not name the rival platform to which she was referring, earlier this year De Havilland Canada announced that it was pausing production of the competing Dash 8-400 at the end of the first half once its current backlog is depleted.
Last year, however, De Havilland Canada out-delivered ATR, shipping 11 examples of its twin-turboprop.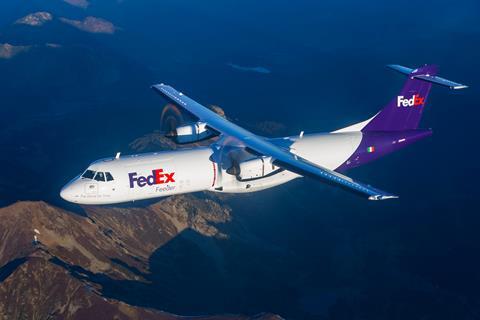 Leonardo builds the aluminium fuselage for each ATR 42-600 and ATR 72-600 at its factory in Pomigliano d'Arco near Naples in the south of Italy.
Lucio Valerio Cioffi, Leonardo general manager, says that the company is investing in new automated manufacturing systems at the site, which will reduce by one-third the time taken to build each fuselage, aiding profitability.
He says that ATR's backlog is "based on strong customers", citing the example of freight carrier FedEx, which last year recieved the first of 30 new-build ATR 72-600 Freighters.
In addition, Leonardo continues to work on "green technologies" that could provide "innovative solutions" for future ATR products, says Cioffi.