SMBC Aviation Capital has ordered 14 Boeing 737 Max 8 aircraft, becoming the latest lessor in recent months to place additional orders for the narrowbody.
The aircraft — to be delivered from the end of the year through 2022 — will be configured in a low-cost carrier layout, discloses the lessor, though it is unclear which carrier they would eventually be operating for.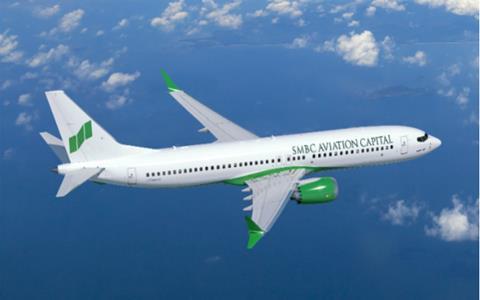 With its latest order, the SMBC 737 Max portfolio now stands at 121 examples. SMBC-managed 737 Max aircraft are currently in operation with carriers such as Southwest Airlines in the US, as well as TUI in Europe.
SMBC chief Peter Barrett notes that there is "increased customer demand" for the 737 Max, following the types return to service in key markets such as the US, Canada, and the European Union.
Boeing senior vice president of commercial sales and marketing Ihssane Mounir adds: "SMBC has been actively managing its portfolio in a very dynamic market. With this new order for the fuel-efficient 737-8, the lessor is well positioned to help its customers capture domestic travel demand in several countries and regions."
In April, Middle Eastern lessor Dubai Aerospace Enterprise ordered 15 737 Max 8s, in a deal valued at $1.8 billion at list prices. Boeing also notched orders and commitments from US carriers Alaska Airlines, Southwest Airlines and United Airlines recently. To date, the airframer has over 250 orders and commitments for the type.
SMBC's orders were disclosed as part of its full year results, where the lessor reported a profit of $15.2 million.
For the year ended 31 March, SMBC closed $3 billion of new aircraft transactions — under a third of its pre-pandemic portfolio.