A local authority is to loan Hybrid Air Vehicles (HAV) £7 million ($8.5 million) to help build Airlander 10 hybrid airships in Doncaster, the UK.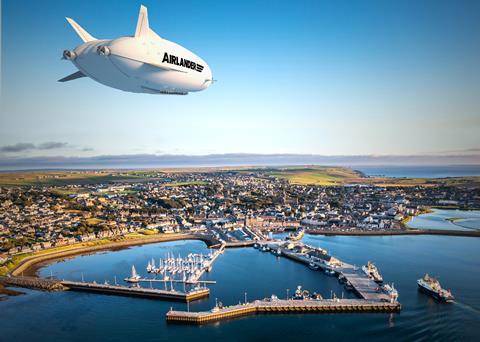 The South Yorkshire Mayoral Combined Authority says the investment will go towards establishing a factory and supply chain in the region.
It is a major boost for the Bedford-based start-up after almost a decade of trying to bring the former military prototype to commercial production.
HAV, which had already announced its intention for a factory in Doncaster, plans to deliver its first aircraft in 2026, and to be producing 10 aircraft per year by the end of the decade.
HAV says the loan will help unlock further investment of up to £310 million in the programme. In January, chief executive Tom Grundy told FlightGlobal that the company would seek an initial public offering (IPO) or merger with an already listed special purpose acquisition company, or SPAC.
In 2021, HAV secured its first major institutional investor, a firm called Global Emerging Markets (GEM), which agreed to inject $200 million in exchange for equity in the company following the IPO. HAV says the funds will help it retain production aircraft on its balance sheet and lease or charter them to operators.
HAV has commitments for 10 Airlander 10s from Spanish regional airline Air Nostrum, but its first three production slots are reserved for unnamed luxury tourism operators.
HAV says it is "progressing plans" to build a production line in the town, which would include facilities for testing and certification, and will announce the specific location "in the months ahead".
One candidate could be the recently shuttered Doncaster Sheffield airport, 10km southeast of the town. Passenger flights stopped there last November, and owner Peel Group plans to redevelop the site. However, there is a vociferous local campaign to keep the airport operational.
The loan was announced on 17 March by South Yorkshire mayor Oliver Coppard, who says investing in green technologies, such as Airlander 10, will "not only help us tackle the climate emergency, it will create high quality new jobs".
He adds: "We have a world-class cluster of companies working at the cutting edge of advanced manufacturing and green technology, so I'm excited that we can support HAV in their ambitions to build a sustainable aviation cluster here in Doncaster."