Longview Aviation Capital's subsidiaries will suspend production of De Havilland Aircraft of Canada's Dash 8-400 turboprop and Viking Air's DHC-6-400 Twin Otter turboprop in response to the coronavirus crisis.
Some 980 staff, including 800 De Havilland workers and 180 Viking employees, "will be affected" by the move, says Longview.
Those staffers represent 65% of De Havilland's workforce and 40% of Viking's, according to Longview, which did not immediately respond to requests for more information.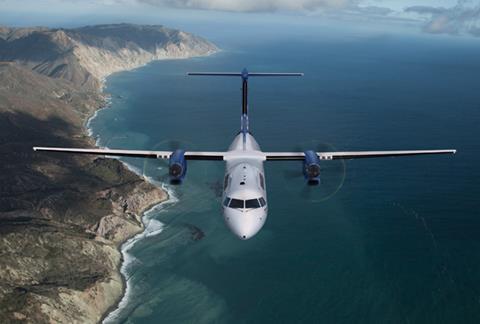 The production halt comes nine months after Longview purchased the Dash 8 programme from Bombardier.
Affected sites include De Havilland's Downsview facility in Toronto and Viking's sites in Victoria, British Colombia and Calgary Alberta.
"Longview hopes to restart aircraft manufacturing operations as conditions improve – based upon ongoing local, national and international events and developments," the company says.
"The global aviation industry is facing unprecedented uncertainty as a result of the novel coronavirus," it adds. "On the basis of these discussions, and against the backdrop of significantly reduced airline activity, Longview determined that it is necessary to pause all new aircraft production activity at this time."
Longview says De Havilland and Viking will continue to fully support customers and provide technical service for in-service De Havilland and Viking Aircraft.
Additionally, Longview Aviation Services will continue conversion work of CL-215 water-bombers to the new CL-415EAF Enhanced Aerial Firefighter variant, it says.
Longview purchased the Dash 8 programme, including the Dash 8-100, -200, -300 and in-production Q400 in June 2019 from Bombardier.
The company had envisioned developing upgraded and special-mission variants of the turboprop.
Doubts about the viability of De Havilland's Q400 business arose in early March when UK regional airline Flybe, a major Q400 operator, ceased flying.
Flybe, which had operated 50 Q400s, was one of the first European airline casualties of the coronavirus.