Aircraft conversion shop Aeronautical Engineers (AEI) has landed an order from lessor Macquarie AirFinance to convert four passenger-configured Boeing 737-800s into 737-800SF converted freighters.
"We are seeing particularly strong demand in the express-freight sector as the e-commerce industry continues to grow," says Macquarie chief executive John Willingham. "As one of the largest lessor owners of mature 737-800 aircraft, it makes business sense to extend their life and continue to evolve our offering."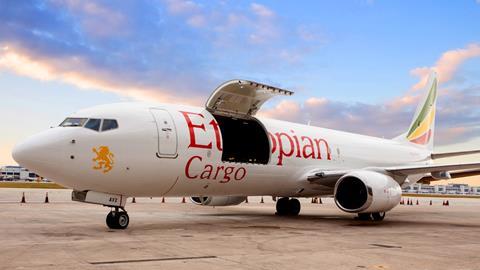 Macquarie parent Macquarie Group owns 65 737-800s, according to its website. Several of those aircraft are roughly 20 years old and have accumulated upwards of 50,000h of flight and more than 30,000 cycles, according to Cirium fleets data.
The Federal Aviation Administration certificated AEI's 737-800SF converted freighter in February 2019. The Miami-based conversion company has delivered seven of the jets and is currently working on the conversion of six additional 737-800SFs. In addition to those, it holds orders for another 31 737-800SFs, plus options for a further 20 conversions, the company says.
Other 737-800SF customers include Aero Capital Solutions, Nigeria's Allied Air, Bulgaria's CargoAir, Florida aircraft services company GA Telesis and launch customer GE Capital Aviation Services (GECAS). Operators include Amazon Air, ASL Airlines' divisions in Belgium and France, China Postal Airlines, Ethiopian Airlines, SpiceJet and West Atlantic, Cirium shows.
The 737-800SF can carry up to 23,900kg (52,700lb) of payload on their main decks and accommodate 11 "full-height" shipping containers, AEI says. The jets have modified floor beams and main cargo doors.