AirAsia Aviation Group expects to domestic and international capacity to hit pre-pandemic levels by year-end, as key markets — including its home country of Malaysia — are swinging open international borders.
The low-cost airline group says it has already more than doubled domestic flight capacity since October 2021, with international flight capacity increased by 50% since early March.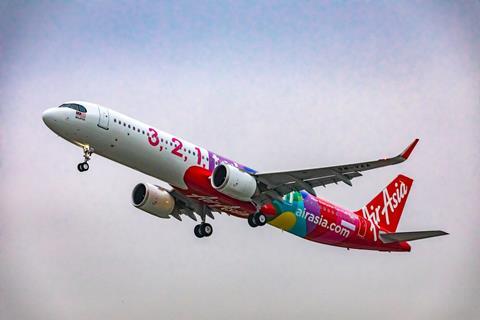 The Malaysian government on 8 March announced the country would fully reopen borders to all vaccinated travellers from 1 April, as part of a broader shift towards living with an endemic Covid-19.
It joins a growing list of countries in Asia-Pacific — such as Australia, New Zealand and India — which have, or are intending to, fully reopen borders after two years of the coronavirus pandemic.
Says AirAsia: "While the airline currently has a number of international services already operating, the announcement of the nation's reopening will provide a welcome boost to support additional capacity in many of its core international markets in line with significant pent-up demand."
The group has also seen "similarly encouraging developments" from its airline units outside of Malaysia, including in Thailand, Indonesia and the Philippines.
Bo Lingam, AirAsia Aviation Group chief, adds: "We will continue to review our network which evolves based on a number of factors including demand. New services will be announced in due course as the world continues to gradually reopen."
Separately, flag carrier Malaysia Airlines is ramping up capacity across its international network, including resuming operations to India from 1 July.
The Oneworld carrier is also increasing frequencies to London, Bangkok and Phuket in Thailand, as well as Sydney and Perth in Australia.
The airline previously stated its aim to operate at 70% pre-pandemic capacity by year-end — up from the current 23% across its domestic and international network.