Mitsubishi Aircraft remains optimistic about the future of its SpaceJet programme despite another development delay, saying it now has a "certifiable design" that will enable M90 flight testing to commence.
"We have made significant changes to our organisation and improvements in the way we do business," the company says on 6 February. "We have also made a myriad of changes to the design of our aircraft."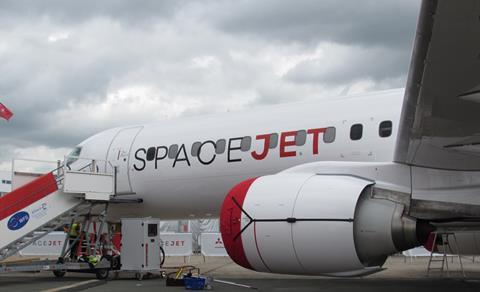 Mitsubishi Aircraft parent Mitsubishi Heavy Industries (MHI) disclosed on 6 February that it now expects deliveries of its in-development SpaceJet M90 to commence in its fiscal year 2021, which runs from April 2021 to March 2022, or later.
The company previously said it expected to begin deliveries of the baseline, 88-seat M90 in mid-2020, to All Nippon Airways.
At the Paris air show in 2019, Mitsubishi Aircraft rebranded the MRJ as SpaceJet, cancelled development of the 69-seat MRJ70 and launched a new 76-seat variant called the M100. Meanwhile, M90 certification work has continued.
Mitsubishi Aircraft says its latest test aircraft, designated "10010", puts the company on a path to certification.
"With the completion of aircraft 10010, we now have a baseline certifiable design that will allow us to achieve certification and set the stage for the future of the SpaceJet family of aircraft," Mitsubishi Aircraft says. "However, as we evaluate the impact of all these changes, it has become clear that we will not achieve certification in FY2020."
Aircraft 10010 has been conducting ground tests at Nagoya and is "in final preparations for first flight", after which the aircraft will join the flight-test fleet in the USA.
"We will have a better understanding of our schedule once this happens," the company says.
MHI also on 6 February disclosed management changes. Effective 1 April, Mitsubishi Aircraft president Hisakazu Mizutani will become the company's chairman. Takaoki Niwa, a 40-year MHI veteran, will succeed Mizutani.
Mitsubishi Aircraft has made more than 900 SpaceJet design changes in the last three years, the company said earlier this month.
"There is an incredible amount of interdependency among these components and systems, and it takes time to fully investigate the impact of the changes," it said.