Pratt & Whitney has opened its second PW1100G geared turbofan MRO centre in China, with MTU Maintenance Zhuhai joining P&W's global network of MRO providers.
MTU Maintenance Zhuhai — a joint venture between China Southern Airlines and German engine specialist MTU — will also be Asia's fifth PW1100G MRO centre, after Ameco in China, Eagle Services Asia in Singapore, as well as IHI and Mitsubishi Heavy Industries Aero Engines in Japan.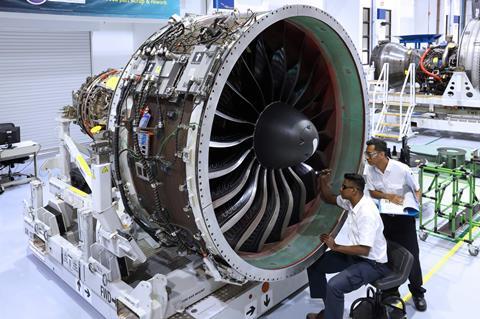 It will also be MTU's third facility globally to provide full disassembly, assembly and test capability for the PW1100G engine, which powers the Airbus A320neo family aircraft.
Jaap Beijer, president and chief executive of MTU Maintenance Zhuhai says: "MTU and Pratt & Whitney's long-standing relationship is further expanded with the addition of the Zhuhai shop to the [PW1100G] MRO network.
"MTU Aero Engines is a risk and revenue sharing partner in the [PW1100G] programme and has contributed to the game-changing technology that has pushed the boundaries of aviation. We look forward to leveraging the expertise within the MTU network and supporting [PW1100G] customers in China and beyond," he adds.
There are currently more than 135 PW1100G-powered Airbus A320neo family aircraft in service in China, with another seven in storage, Cirium fleets data shows.