Myanmar's airlines have temporarily suspended flights to six domestic airports from 29 May to 8 June, in line with the government's movement restrictions for certain townships to curb a rise in Covid-19 cases that began last week.
Myanmar Airways International and Air KBZ have cancelled flights to Tachileik, Kalay, Kaing Tong, Dawei, Myeik and Kawthaung over this period, the airlines said in 28 May updates on their respective official Facebook accounts.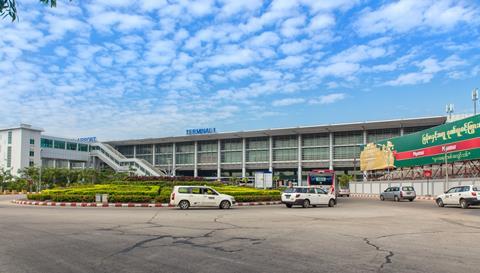 Myanmar's Department of Civil Aviation states on its website that the suspension of flights to the six domestic airports was due to rising infections in the Tanintharyi Region and Shan State as well as in neighbouring countries India and Thailand.
Since 27 May, Myanmar has seen a rise in Covid-19 infections to a daily average of more than 60 new cases reported, according to daily updates by the Ministry of Health and Sports. The figure compares with a daily average of 19 new cases reported 1-26 May.
Since the start of the pandemic, the country has recorded over 143,000 confirmed coronavirus cases, according to World Health Organization figures. The Southeast Asian nation with a population of 54 million battled a prolonged outbreak from September to February, which at points surged to more than 2,000 new daily cases.
International flights to the capital city have been suspended since 30 March 2020 due to the coronavirus pandemic.
Myanmar also remains in a one-year state of emergency declared on 1 February, when the military seized power amid escalating tensions over results of a November general election. The military detained de facto leader Aung San Suu Kyi, president Win Myint, and other senior members of the ruling party and installed Senior General Min Aung Hlaing as the country's commander-in-chief.
According to Cirium schedules data, there were nearly 4,000 flights to Myanmar in the month of January, both domestic and international, versus 2,000-2,400 flights each month in February-May, after the coup.
From January to May, Myanmar Airways International was the largest operator, averaging 1,200 flights per month, followed by Myanmar National Airlines, with about 540 flights per month on average.
International airlines that have flown to Myanmar during the January-May period include Jetstar, Air China, China Eastern, China Southern, China Airlines and Malaysia Airlines, with each airline operating less than 20 flights over this period.