Chinese civil aviation regulators forecast a 77% year-on-year decline in passenger traffic over the Labour Day holiday period, underscoring the travel restrictions Beijing has imposed in a bid to crush coronavirus infection numbers.
At a regular news conference, the Civil Aviation Administration of China (CAAC) says Chinese airlines expect to carry just around 2 million passengers during the 'Golden Week' period between 30 April and 4 May, or about 400,000 passengers a day.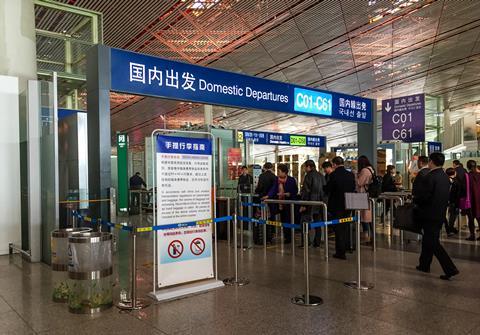 The 'Golden Week', which also occurs during other major holidays in China such as the Lunar New Year, is traditionally a peak travel period. However, China is seeing an uptick in infections – caused by the more contagious Omicron variant – in recent months, including in major metropolises like Shanghai and Beijing.
Liang Nan, the CAAC's director of transportation, concedes that passenger willingness to travel "is currently low", given that the domestic pandemic situation is "severe and complicated".
CAAC statistics also highlight a challenging March and first quarter for the domestic airline sector.
Chinese carriers in March reported a steep, 68% drop in passenger traffic, while traffic was down 25% year on year in the first quarter of the year.
Once the region's sole bright spot – particularly in the early days of the pandemic – Chinese domestic traffic has fallen off a cliff in recent months, as the country's strict zero-infection policy clashes with a fresh wave of coronavirus infections.
Data from the three largest carriers show domestic passenger numbers nosediving to levels not seen since the start of the pandemic, which first broke out in the Chinese city of Wuhan.