Chinese airline passenger traffic took a hit in August — amid a resurgence in the coronavirus in large swathes of the Chinese mainland — with aviation regulators calling it "not optimistic".
Figures released by the Civil Aviation Administration of China (CAAC) state that Chinese carriers carried 22.4 million passengers in August, which was nearly 52% lower year on year.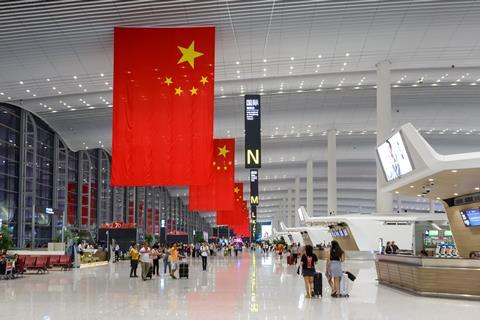 Compared to the same month in pre-pandemic 2019, the figure represented a significant 63% decline. The authority did not provide a breakdown on domestic and international passenger numbers, though it is understood that a large majority are domestic travellers.
CAAC officials, in a routine press conference held on 14 September, pointed out that the latest wave of infections — caused by the more-infectious Delta variant — had caused traffic to "significantly decline".
The Delta-fuelled infections in China originated from the eastern city of Nanjing in late-July and quickly spread to other parts of the country, including to capital Beijing. Since then, strict social gathering restrictions have been imposed in Nanjing, which also shut its airport for weeks, as well as other Chinese cities.
The latest wave — touted the worst since the start of the pandemic — posed a "severe test" to Chinese domestic carriers, says CAAC's deputy director for general affairs Wang Haibo.
While general operating indicators were "still in line with expectations", Wang says the impact of the latest wave had dampened recovery momentum.
"Due to the impact of the pandemic, [the situation] of the [civil aviation] industry is not optimistic," Wang says.
The CAAC's sombre pronouncement — especially notable since China claimed to have kept the pandemic under control — comes as Chinese carriers gear up for an uptick in travel in late-September through October, during China's National Day holidays.
To this end, the CAAC is proposing several measures to help airlines recover from the hard hit. It says it will work to "vigorously promote" local tourism, while ensuring Chinese carriers continue to adhere to safety protocols.
The CAAC adds that it is open to relaxing or tweaking flight scheduling policies, as well as extend financial support through fee waivers and corporate loans.